Just because today is Halloween doesn't mean the spirit of the holiday has to end with October's close. Reading books rooted in and/or about horror can keep the bad vibes and ill feelings alive — or undead — as the months grow more chilling. From fiction to nonfiction, here are several recent releases that may help do just that. —Rod Lott
ZOMBIES! ZOMBIES! ZOMBIES! edited by Otto Penzler — There is never a dull moment in the world of zombies. They are superstars of horror and they are everywhere, storming the world of print and visual media. Their endless march will never be stopped. It's the Zombie Zeitgeist! Now, with his wide sweep of knowledge and keen eye for great storytelling, Otto Penzler offers a remarkable catalog of zombie literature. Including unstoppable tales from world-renowned authors like Stephen King, Joe R. Lansdale, Robert McCammon, Robert E. Howard, and Richard Matheson to the writer who started it all, W.B. Seabrook, ZOMBIES! ZOMBIES! ZOMBIES! features deadly bites, satanic pigeons, a parade of corpses, zombies, zombies and more zombies.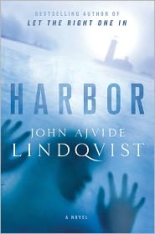 HARBOR by John Ajvide Lindqvist — One ordinary winter afternoon on a snowy island, Anders and Cecilia take their 6-year-old daughter, Maja, across the ice to visit the lighthouse in the middle of the frozen channel. While the couple explore the lighthouse, Maja disappears — either into thin air or under thin ice. Two years later, alone and more or less permanently drunk, Anders returns to the island to regroup. He slowly realises that people are not telling him all they know; even his own mother, it seems, is keeping secrets. What is happening in Domaro, and what power does the sea have over the town's inhabitants?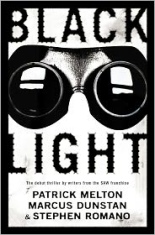 BLACK LIGHT by Patrick Melton, Marcus Dunstan and Stephen Romano — If you have a supernatural problem that won't go away, you need Buck Carlsbad: private eye, exorcist and last resort. Buck's got a way with spirits that no one else can match. He was normal, once. Until Something Horrible killed his parents and left him for dead. Buck has spent years using his gift to trace his family. It's his only hope of finding out what happened to them, and what made him the way he is. Now the voices say that Something Big is coming: a super high-tech bullet train running express across a stretch of unforgiving desert known for the most deadly paranormal events in history.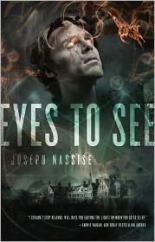 EYES TO SEE by Joseph Nassise — Jeremiah Hunt has been broken by a malevolent force that has taken his young daughter and everything else of value in his life: his marriage, his career, his reputation. Desperate to reclaim what he has lost, Hunt finally turns to the supernatural for justice. Abandoning all hope for a normal life, he enters the world of ghosts and even more dangerous entities from beyond the grave. Sacrificing his normal sight so that he can see the souls of the dead and the powers that stalk his worst nightmares, Hunt embarks upon a strange new career: a pariah among the living, a scourge among the dead, doomed to walk between the light of day and the deepest darkness beyond night.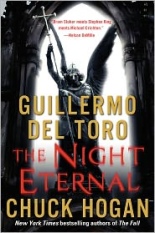 THE NIGHT ETERNAL by Guillermo del Toro and Chuck Hogan — It's been two years since the vampiric virus was unleashed in THE STRAIN, and the entire world now lies on the brink of annihilation. There is only night as nuclear winter blankets the land, the sun filtering through the poisoned atmosphere for two hours each day — the perfect environment for the propagation of vampires. There has been a mass extermination of humans, orchestrated by an ancient vampire possessed of unparalleled powers. Those who remain are entirely subjugated, interred in camps, and separated by status: those who breed more humans, and those who are bled for the sustenance of the Master's vast army.
MIDNIGHT MOVIE by Tobe Hooper and Alan Goldsher — The good news: Director Tobe Hooper has been invited to speak at a screening of DESTINY EXPRESS, a movie he wrote and directed as a teenager, but that hasn't seen the light of day in decades. And Hooper's fans are ecstatic. The bad news: DESTINY EXPRESS proves to be a killer … literally. As the death toll mounts, Tobe embarks on a desperate journey to understand the film's 30-year-old origins — and put an end to the strange epidemic his creation has set in motion.
THEM OR US by David Moody — Hundreds of Hater fighters have settled on the East Coast in the abandoned remains of a relatively undamaged town under the command of Hinchcliffe, who'll stop at nothing to eradicate the last few Unchanged and consolidate his position at the top of this new world order. Danny McCoyne is the exception to the rule. His ability to hold the Hate and to use it to hunt out the remaining Unchanged has given him a unique position in Hinchcliffe's army of fighters. As the enemy's numbers reduce, so the pressure on McCoyne increases, until he finds himself at the very center of a pivotal confrontation, the outcome of which will have repercussions on the future of everyone who is left alive.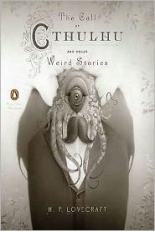 THE CALL OF CTHULHU AND OTHER WEIRD STORIES by H.P. Lovecraft, edited by S.T. Joshi — Frequently imitated and widely influential, H.P. Lovecraft reinvented the horror genre in the 1920s, discarding ghosts and witches and instead envisioning mankind as a tiny outpost of dwindling sanity in a chaotic and malevolent universe. S.T. Joshi presents a selection of the master's fiction, from the early tales of nightmares and madness such as "The Outsider" to the overpowering cosmic terror of "The Call of Cthulhu." More than just a collection of terrifying tales, this Penguin Classics volume reveals the development of Lovecraft's mesmerizing narrative style and establishes him as a canonical and visionary American writer.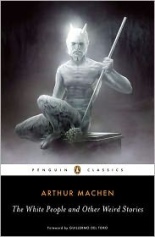 THE WHITE PEOPLE AND OTHER WEIRD STORIES by Arthur Machen, edited by S.T. Joshi — Actor, journalist, devotee of Celtic Christianity and the Holy Grail legend, Welshman Arthur Machen is considered one of the fathers of weird fiction, a master of mayhem whose work has drawn comparisons to H.P. Lovecraft and Edgar Allan Poe. Readers will find the perfect introduction to his style in this new Penguin Classics collection. With the title story, an exercise in the bizarre that leaves the reader disoriented virtually from the first page, Machen turns even fundamental truths upside down. "There have been those who have sounded the very depths of sin," explains the character Ambrose, "who all their lives have never done an 'ill deed.'"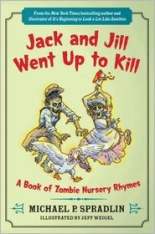 JACK AND JILL WENT UP TO KILL: A BOOK OF ZOMBIE NURSERY RHYMES by Michael P. Spradlin and Jeff Weigel — Mother Goose is doing the undead shuffle! Every kiddie loves nursery rhymes — even the little ones in advanced state of decay who enjoy chowing down on human viscera. Now the madmen who brought you IT'S BEGINNING TO LOOK A LOT LIKE ZOMBIES and EVERY ZOMBIE EATS SOMEBODY eviscerate the beloved poems that once filled our tiny oozing childish brains — "Little Miss Muffet Turned on a Tuffet" into something putrid and smelly, and it's "Three Undead Mice" scampering across our kitchen table.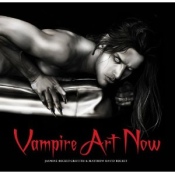 VAMPIRE ART NOW by Jasmine Becket-Griffith and Matthew David Becket — From the elegant beauties of Victoria Frances to the decaying savages of Anne Stokes, this book illustrates the vampire in his or her many moods: either wooing lovers with a hypnotic stare, biting long necks (willing and unwilling), or staring straight at the viewer as if ready to bound off the page in a nocturnal frenzy. By presenting multiple artists' takes on what it means to be a vampire, this collection illustrates how one cultural icon can vary so greatly across different cultures, classes, media and artistic aesthetics.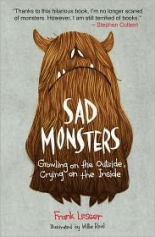 SAD MONSTERS: GROWLING ON THE OUTSIDE, CRYING ON THE INSIDE by Frank Lesser and Willie Real — Monsters have it tough. Besides being deeply misunderstood, they suffer from very real problems: Mummies have body image issues, Godzilla is going through an existential crisis, and creatures from the black lagoon face discrimination from creatures from the white lagoon. At heart, these monsters are human; after all, you are what you eat. Quirkily illustrated, SAD MONSTERS documents the trials and tribulations of all the undead creatures monster-mad readers have grown to love, from vampires and werewolves, to chupacabras and sphinxes, and even claw-footed bathtubs.