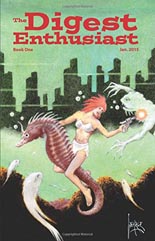 When a publication about your obsessive hobby reads interesting even to someone who doesn't share that obsessive hobby, you're doing something right.
Clearly, THE DIGEST ENTHUSIAST is doing something right.
Printed appropriately in near-digest form, the magazine devotes itself to — what else? — the world of digest magazines. Carrying the label of BOOK ONE, the new pub debuted in late January. Get aboard now so the out-of-love endeavor may continue.