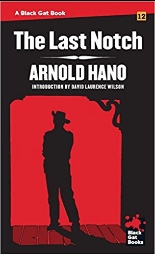 THE LAST NOTCH was originally published in in the late 1950s under the name Matthew Gant, one of Arnold Hano's several pen names. This new edition from Black Gat Books, the mass paperback division of Stark House Press, is the first publication using Hano's real name. More importantly it is a superb example of how the characteristics of noir – usually associated with crime fiction and mysteries – can be used in a Western novel.
Ben Slattery is well known as a hired gun. But after so many years, and so many killings, he's grown tired of it all. Then a man named Fallon approaches Slattery with a job that pays more money than he's ever earned before. Slattery accepts the job, and sees it as his last – the last notch on his gun before he puts it away and retires for good.
But when Slattery learns the identity of his intended target, he quickly realizes that the job will take more planning than expected. Then there's Billy The Kid, the notorious outlaw and Slattery's rival, who follows Slattery to make certain this new job is indeed Slattery's last.
Hano immediately immerses us into the events and conflicts with a prose style that is surprisingly intense and penetrating. As the plot progresses we are taken deep within each of the main character's thoughts, emotions, and apprehensions.
The story is full of suspenseful scenes, including those that don't result in violence. Like the tense saloon encounter between Slattery and The Kid in the opening chapter, taking place before Slattery learns about his job and targeted victim.
Hano also embellishes the story with unexpected political and economic motivations. Thus we learn that the conflict between cattlemen and sheepherders for the use of land is the incentive behind Slattery's final assignment. We also see how many outlaws are surrendering their guns in exchange for amnesty. This elevates the novel above the typical story of cowboys and gunslingers and gives it an unexpected depth.
And while the perspectives shifts between characters, it is Slattery who holds our attention as he approaches this last job while looking back over a life filled with murder and regret. And Slattery's mixed heritage and upbringing make him unique among protagonists of western fiction, while strengthening his noir characteristics.
In his detailed introduction David Laurence Wilson traces Hano's career and his approach to writing fiction. Hano was, as many historians of crime fiction know, the editor of Lion Books during the early boom years of paperback originals. He helped shape the careers of such rediscovered crime fiction stars as Jim Thompson and David Goodis. But during this time Hano also wrote a handful of crime and western novels (under his own name and several pen-names) as well as several works of non-fiction and fiction about sports – especially baseball.
There is more than enough character insight and complexity here to appeal to those who wouldn't normally read a novel set in the early years of the American West. And those who enjoy and follow western fiction will find subjects and perspectives not usually discussed in the genre.
All of which make THE LAST NOTCH recommended reading for both western fans and those who only occasionally pick up a western novel to vary their crime fiction selections. —Alan Cranis