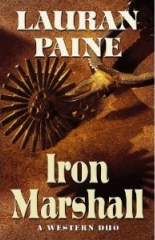 In the 1980s, Guinness listed Lauran Paine as the most prolific writer in the world. Whether that is a good thing or not is up to the reader to decide. But when most people think of Western writers of the early generation, Paine is probably not the first name to come to one's mind. he started writing short stories for the pulps and slick magazines in the '30s and '40s, then graduated to novels. The re-release of Paine's long list of publications may change that.
IRON MARSHAL is billed as a duo, a standard format from Five Star. Its first novel, LOST VALLEY, tackles a generational ranch tale with all of the expected characters and tropes. A good-natured sheriff who must defend a homesteader on the land that is completely owned by the Hyland family, but hard to prove. Growth and progress are the evils here, fought by men determined to stay on land they believe is theirs, and the conclusion will come as no surprise.
IRON MARSHAL concerns marshal Texas Jim Collins, who has kept the peace in Anza County, N.M., for 25 years. Another ranch tale ensues here, as the most powerful rancher around, John Setter, is convinced Texas Jim's best days are behind him, and should retire. Setter looks to a stranger to force Texas Jim out of office, but the plan backfires, and the marshal hires the stranger as his deputy, setting the stage for a showdown that is pretty much telegraphed from the beginning.
Neither tale brings anything new to the table, but they are both solid reads, and provide an informative experience of a western writer of another age. Traditionalists will enjoy this pair of novels. —Larry D. Sweazy