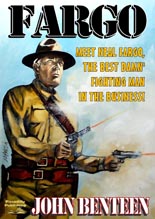 It's time once again to saddle up and ride into the Old West. This trip to the frontier will be a little different, since the first two books covered are ebooks from the fine folks of Piccadilly Publishing, who have been putting out some solid reissues. I figured it was damn time to cover a few. The third book is from a long-running series that a friend of mine who is not a fan of the genre swears by.
FARGO by John Benteen — Yes, I know the cover looks like Lee Marvin, but in essence, so does Neal Fargo, a fighting man who rode with the Rough Riders, but is now a hired gun or soldier of fortune. He is tall; his hair is prematurely white; and his face is weather-beaten. Like I said, Lee Marvin, and that's who I thought of while reading this 1969 adventure tale.
It may be set in the Old West, but the series takes Fargo all over to various locales and jobs that are more akin to the soldier-of-fortune aspect. In this opening book for the series, he is hired by a man named Meredith who has a silver mine in deep Mexico and offers a nice chunk of money to help him bring the silver back.
The story is action-a-go-go from the get-go. We see firsthand Fargo is not a man to mess with and definitely not one to try and pull the wool over his eyes. Yes, some portions of the book are fairly obvious: the treachery, double-crosses, the people who will change allegiances at the drop of a hat and so on.
Still, Benteen — aka Ben Haas — knows how to tell a story. Never once did I feel as the story was dragging. And it definitely never overstays its welcome. The best way to sum up the action is take all the action from the LONGARM or GUNSMITH series, then tone down the sex considerably. Piccadilly Publishing is slowly reissuing this series as ebooks. I have no idea if they will continue after the initial chunk of books that were written by Haas, since the franchise continued after he finished.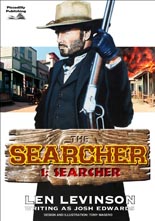 THE SEARCHER #1: SEARCHER by Len Levinson — What, another Len Levinson book? This one is from a completely different genre. The man was prolific, to say the least, and this 1990 effort falls between his WWII work (in its violence) and last column's BAR STUDS (with tawdry tales).
With this being the first entry in a series, Levinson lays down the groundwork for the books that will follow: John Stone, a former Civil War soldier for the south, is looking for his sweetheart who just picked up and left before he got home from the war. That is the driving force of Stone. He carries around a picture of his beloved, asking anyone if they have seen her. He might seem like some lovestruck, wandering type, but that's the only soft part about him.
As readers witness, Stone is incredibly dangerous — not only quick with the gun, but strong as an ox. He takes out a group of cowboys in a bar who make snide remarks about his gal. This leads him to team up with a wagon train headed to Texas, hoping his true love might be there. The wagon train faces all sorts of obstacles, as you would expect, with it made up with a casting call of Western types: gamblers, a preacher, his family, dance hall girls, miners, a clan ready to go into business and, of course, a grizzled wagon master.
The story moves along rather quickly with Stone showing the kind of man he is. They face bandits, Indians and the possibility of running out of water, but all the while, Stone handles it all with a cold and steely reserve. The series is 12 books long. I'm hopeful Piccadilly Publishing will put these out sooner than later.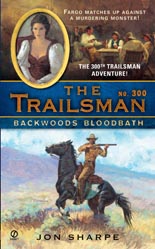 THE TRAILSMAN #300: BACKWOODS BLOODBATH by Jon Sharpe — From the prolific mind of Jon Sharpe … wait, what? You're saying that's just a house name for a variety of authors? I know, I know, but when it comes to Western series, not everyone is Robert Randisi.
I've heard plenty of things about this series from friends, about how if I enjoy the aforementioned LONGARM and THE GUNSMITH, then THE TRAILSMAN is in the same vein: your typical super cowboy who never loses and always beds the women. In other words, loads of fun and filled with action and naughty parts. My issue with it — and maybe it's just this one 2006 entry — is I saw the big twist and surprise coming early on.
Unlike most of the Western series I've covered, this one takes place before the Civil War, around the time of the Lincoln/Douglas debates. Skye Fargo is the best at what he does: being a tracker for hire. He is hired by a man named Draypool, who wants him to track down a killer called the Sagamon River Monster who is terrorizing Illinois. The cash is too tempting for Fargo to resist, but shortly after signing on, he becomes awfully suspicious of Draypool.
Not to ruin the "surprise" of who Fargo is really after, but how you could not figure it out? The reader is hit over the head with such blatant clues. On the plus side, there are plenty of those adult moments that keep the reader turning the pages — nothing as graphic as LONGARM, but enough. The action in BACKWOODS BLOODBATH is pretty solid, so even though it becomes comical at the climax, I'll read another TRAILSMAN in hopes the plot will be a bit more engaging. —Bruce Grossman