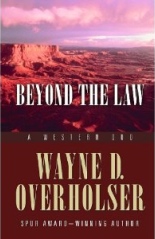 Wayne D. Overholser, who passed away in 1996, was a charter member of the Western Writers of America and won a Spur Award the first year they were given out, in 1953, as Lee Leighton. He would go on to win two more Spurs and be awarded the Saddleman Award for lifetime achievement in 1989. Five Star has released BEYOND THE LAW, a duo of novels that includes SHADOW OF A LOBO, introducing a new audience to Overholser's writing.
In SHADOW, he tackles a familiar Western novel about the abuse of power in a small town, but adds some nice twists. Cliff Jenson always wanted to be a rancher, but instead, started a mercantile. There are two mercantile stores in town, so there's competition, and a toll road that runs in and out of the valley. When a new banker comes to town and gives Jenson the choice to be a rancher or close the store, Jenson decides to do whatever it takes to keep his store, especially after the toll road owner disappears, and supplies become even harder to come by.
It seems the banker is serious about taking control of the town, and knows Jenson will stand in his way, no matter what. The only complaint here is that the story runs 55 pages, and could have been longer. The characters are strong, and the period perfectly portrayed.
BEYOND THE LAW is another ranch novel. This one features Sherman Rawls, who owns a big parcel of land in the Red Rock Mesa area. Rawls is also the law. He hangs a man, Billy Combs, for being a horse thief, but is most likely acting out of jealousy, since the man was paying undo attention to Rawls' beautiful wife. But Combs has a wife, too, and she vows revenge on Rawls. What comes next is a tale of revenge, mixed emotions and love on the range, all added in with a hired gunfighter with trouble of his own. This novel is the stronger of the two, and offers the Western reader some fine hours of entertainment.
This collection offers a good introduction to one of the forbearers of modern Western writing, and longtime fans a chance to get reacquainted. —Larry D. Sweazy