Quick takes and capsule reviews from the dark suspense master himself, Ed Gorman!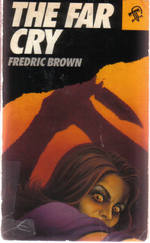 Fredric Brown seems to be one of those writers most speak fondly of but few read. In the past 15 years there have been various attempts at bringing back some of his best work, but with the exception of Dennis McMillan's excellent short story collections, none of the attempts have had much market impact. Few were ever even reviewed.
Which means that Brown's THE FAR CRY, which I'm about to review, will likely have to be purchased online. I'm using the 1987 Black Lizard edition, which was later reprinted in trade paperback after the company was sold. Since I'm given to overexuberance when I read a book I really admire, I'll try to keep my enthusiasm to a minimum by saying that this is one of the best mysteries I've ever read. How's that for self-restraint?
George Weaver, a man trapped in an unhappy marriage to a woman who drinks even more than he does, is put into a mental hospital because of a stress-related breakdown. Afterward, he decides that with his two daughters going to summer camp, he'll look for a place where he and his wife can relax, his doctors ordering a strict rest. He's headed for Santa Fe, where they once lived, but decides to stop in Taos where he eventually rents a shambles of a house. That's another problem the Weavers have: No money. His wife Vi stays behind till the girls are safely at camp. Then she takes a bus to join him.
The house comes complete with a mystery. Eight years before, the story opens, a rather strange painter lived here. Weaver finds himself disturbed by a few of the paintings left behind after he painter murdered a young woman and fled.
Couple things: If you've had the pleasure of seeing Roman Polanski's THE TENANT, you'll enjoy the troubling grip the paintings and the memories of the dead girl begin to have on George. You soon realize that this novel is not about murder but madness. The details Brown uses to create George's fixation with the murder are at least as creepy in a more subtle way than anything Hannibal Lecter has to offer. It's almost as creepy and mysterious as PSYCHO.
Brown also gives us a lively portrait of Taos after the big war – the artists who collected there to paint, write books, compose music. And the hangers-on and wannabes who collect around them. Brown fills out his backdrop with the skill of a true portraitist. And this includes the landscape, especially the surrounding mountains, which Brown describes with almost mythic beauty. Brown was a well-known atheist, but in nature he seems to have found an moderately acceptable version of a supreme being.
There is a sense of dread in this book that stayed with me for a full week. The depth of George's investigation into the young woman's death is rendered with the same skill of an Ed McBain police thriller. And the marriage he shows us is astounding in its mixture of hatred and pity.
There's a site asking people for their list of top 10 mystery novels. For me, THE FAR CRY would go into the top five.
• • •
Dictionary: The word "picaresque" is taken from a form of satirical prose originating in Spain, depicting realistically and often humorously the adventures of a low-born, roguish hero living by his/her wits in a corrupt society.
This is the only word I can find to adequately describe THE LAST MATCH by David Dodge, the newest Hard Case crime presentation. In a winningly cynical voice, a young swindler tells us all about working scams in places as far flung as Cannes, Tangiers and Lima, among others. He is particularly deft with women.
Good to remember that Dodge was also a travel writer of considerable note, so the backdrops here are almost as vivid as the characters, who are mostly low-borns working their way downward reeking of sweat, booze and occasionally blood.
Dodge hangs a good deal of his tale on the romance between Curly and a fetching young woman of British royalty named Regina. She, unlike most other humans who trod the earth, seems to feel that Curly's soul is worth saving and she attacks this task with almost saintly (and sexy) determination.
I didn't care much about the story, but was won over completely by the high style of the prose, the incorrigible personality of the narrator and the unending list of badasses who appear along the various map points. This has the feel of a memoir rather than a novel, and that makes it all the more realistic.
I think you'd have to say that Dodge – who wrote this novel sometime in the early '70s even though this is its first publication – didn't have much interest in the usual tropes of genre thriller fiction. Graceful and sardonic writing seem his biggest fascination, a true world view with some gunfights, fist fights and bad ladies thrown in every once in a while to honor pulp expectations. I should note here that early in the first chapter, Dodge struts his stuff, introducing us to an attractive and appealing middle-aged woman who is using him as her current boy-toy. You know you're in the hands of a real writer when Dodge makes us like and even respect the woman. Not a cliché in sight. I knew right off I'd like book just because of its opening chapter.
His daughter Kendal Dodge Butler provides a loving, even endearing afterword about her father. He seems to be about what I expected: a man who had his darkest adventures early on and then settled into a respectable middle-aged family life that allowed him the leisure and luxury to pursue his writing where he got to polish up some of those old adventures and display his wide knowledge of cons and scams. –Ed Gorman
Buy it at Amazon.
Discuss it in our forums.
OTHER BOOKGASM REVIEWS OF THESE AUTHORS:
• PLUNDER OF THE SUN by David Dodge