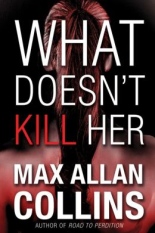 Leave it to the prolific, imaginative mind of Max Allan Collins to demythologize the overused serial-killer trope, correct several misconceptions about it, and at the same time produce a solid, suspenseful, stand-alone thriller. These are among the several reasons why you shouldn't miss WHAT DOESN'T KILL HER.
Sixteen-year-old Jordan Rivera lives the life of a perfectly normal high school girl … until one evening, while she contemplates her homework, a man breaks into her home and brutally murders her family. But the killer spares Jordan, and tells her why before he leaves the house.
Jordan spends the next 10 years in a silent, near-catatonic state as a patient in a mental hospital. Then one night, while watching TV with the other patients, she sees a news report of the murder of another family. Suddenly, she breaks her silence and is convinced that the man who took her family and robbed her of her youth is still at large. She and other members of her victims' support group meet secretly outside the hospital to pool their individual skills and hunt down the killer.
 
But Jordan is not the only one who believes the killer is still out there. Mark Pryor, a boy she had a crush on in high school, grows up to become a local police detective. He, too, remains haunted by the Rivera killings and gets his supervisor's permission to privately pursue some theories he has developed.
Eventually, Mark reconnects and joins forces with Jordan to track the killer. But whereas he wants to bring the murderer to justice, Jordan is intent on making him suffer like she has all these years.
 
Collins opens the novel with some of his most intense writing ever as he details the killer's sudden intrusion and murder of each member of Jordan's family. From this and its immediate aftermath, we more than willingly accept her retreat into silence.
 
The chapters and events that follow are obviously calmer, but Collins sustains our interest with the cast of believable characters he introduces. Each of Jordan's fellow hunters is a survivor of similar traumatic killings, yet they find strength in her resolve and come to adopt her mission as their own. Mark is also memorable for his quirky refusal to curse — a trait that immediately sets him apart from his follow officers.
 
As Mark and Jordan's group trace the string of killings they come to believe are connected, Collins interjects some often overlooked realities about serial killings. While they may be common in books and movies, they are, in fact, distinctively rare in the real world of crime — and hence, why they often generate media attention far beyond the site of the occurrences. While victims may appear random, there is usually a reason why the killer chose them as targets.
 
Yet Collins' latest is by no means a dissertation on serial killers disguised as a novel. He weaves these and other facts within a story that has more than its share of unexpected twists and white-knuckle anticipation. While the author gives in to the temptation of shifting the point-of-view to the killer (complete with italics), these moments are blissfully few and last just long enough to make their point before returning us to the central characters and focus of the narrative.
 
WHAT DOESN'T KILL HER reminds us that, along with his outstanding series of history-based crime novels, his many tie-in projects and his notable efforts to complete the unfinished projects of the late Mickey Spillane, Collins' bibliography also contains fully realized and superb stand-alone novels. While they may not appear as often as his other titles, they always prove themselves more than worth the wait. —Alan Cranis