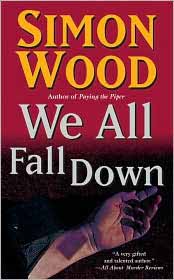 Thriller author Simon Wood's WE ALL FALL DOWN is a fast-paced page-turner that will gain even more fans for his output. Hayden Duke works is a freelance contractor, currently doing work for a company called Marin Design Engineering. One night, he gets a bizarre phone call from his friend Shane, who also works for the company. Shane has sent an e-mail attachment to Hayden, but is all panicked and wants him to delete it.
Confused by all this, Hayden confronts Shane, who is acting even stranger, believing he is being watched and his apartment is bugged. So he commits suicide by hanging himself in front of his friend.
That is strange enough, but the problem is, another one of Shane's coworkers killed himself a few days earlier, before Hayden even started to work there. Why is this going on and what's so special about this e-mail attachment Hayden was sent, which he has sitting on a flash drive?
Wood does an amazing job of hooking the reader like a fish. Once Hayden and Shane's sister start looking into the weird circumstances, the troubles just get even more terrifying, including Hayden being part of a house cleaning of anyone involved with the MDE project he worked on. Wood builds up the suspense throughout the story, giving the reader only small amounts of information of who is behind the killings, so we watch as any other witness or worker on the project would, as things are dealt with in an extremely cold-blooded way.
The great reveal is not exposed until the final few pages, with the author taking the reader toward what looks like the bleakest of endings. WE ALL FALL DOWN continues Wood's sharp eye for a thrilling ride that doesn't rely on cheap outs, but creative storytelling. —Bruce Grossman
OTHER BOOKGASM REVIEWS OF THIS AUTHOR:
• ACCIDENTS WAITING TO HAPPEN by Simon Wood
• PAYING THE PIPER by Simon Wood