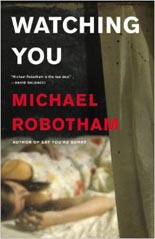 Clinical psychologist Joe O'Loughlin returns in WATCHING YOU, Michael Robotham's ninth thriller. It adds new viewpoints to what seems at first like a standard stalker-themed story. While intriguing, the narrative comes close to losing itself in the midst of these new departures.
Marnie Logan's husband mysteriously disappeared a little over a year ago, and she is finding it hard to hold herself and her family together. Without proof that her husband is dead, Marnie cannot access his funds, claim his life insurance, nor halt the automatic payment transactions he long ago instituted. So she takes desparate and dangerous steps to make sure she can pay the rent and feed her two needy children.
Among the few moments Marnie feels safe is during her weekly psychotherapy sessions with Joe O'Loughlin. She admits that she often feels someone is watching her, but refuses to offer more than the most basic details of her past.
While investigating her past and the disappearance of her husband, O'Loughlin and his retired police-detective friend Vincent Ruiz discover individuals who passionately despise Marnie and blame her for the misfortunes of their lives. But O'Loughlin suspects there might be someone else involved who has watched over Marnie all her life and exacts brutal revenge on those who threaten or harm her.
O'Loughlin wonders: Could Marnie's husband have fled before he became this secret protector's next target?
Robotham's prose is, as always, confident and assured, and his characters equally credible. This is especially true of O'Loughlin, who struggles with the onset of Parkinson's disease, but has come to accept it as part of his existence and refers to it internally as "Mr. Parkinson."
In the midst of the investigation, however, the author introduces a rare yet probable theory that challenges all previous notions of stalkers. It leads the story into entirely different directions, and while fascinating is a bit hard to swallow.
Perhaps sensing this, Robotham injects yet another theory about the stalker's identity and motive. By this time, unfortunately, it is near the novel's conclusion. So while slightly more plausible than the previous theory, this newer one can't help but feel like a last-minute addition followed by a rush of supporting evidence that ties all the loose ends together.
Yet throughout these shifting interpretations Robotham keeps the suspense both taut and mounting. So while readers may not fully accept the explanations, they can't keep from wondering what's going to happen next. Too bad the author couldn't devise another way to distinguish those sections told from the stalker's perspective rather than resort to overused italics. Fortunately, these sections are brief and are often informative.
Robotham is to be commended for his attempts to stretch familiar thriller troupes into different and unexpected directions. The risks may not always work, but he remains among the most inventive and intriguing authors in today's crowded thriller realm. —Alan Cranis