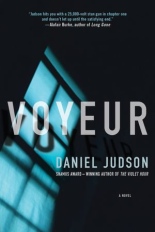 Daniel Judson returns again to his wintry Southampton turf for VOYEUR, a paperback packing a dizzying array of deception, betrayal and greed into a story running under 300 pages.
 
Remer, the only name we're given for the protagonist, was once a successful and effective private investigator in Manhattan. His specialty was spying on individuals while they took part in extramarital affairs, and providing the damning evidence for divorce trials as a result. During one such case, however, Remer was set up and captured by hired thugs. They tortured him and left him with a scar he still carries. And that was enough to cause Remer to retire from the P.I. business.  
Now he leads a comfortably dull life running a liquor store he owns in Southampton. On weekends, he numbs his mind with a homemade and mildly hallucinogenic concoction of herbs and extracts, while enjoying the company of a pretty female college student who stays in the apartment above his.
Just as Christmas approaches, Remer is contacted by a former operative and store employee. She wants him to help locate Mia Ferrera, the daughter of a wealthy Manhattan society matron. Mia was once the woman Remer loved, until she disappeared mysteriously with a load of Remer's money. Still, he agrees to help find her, upon condition that he only has to report where she is and have no contact with her whatsoever.
 
But shortly after finding Mia, Remer witnesses what looks like a murder, pulling him into a whirlwind of chases, cover-ups, violence and a convoluted scheme that could set him up in ways worse than what forced him out of the P.I. game all those years ago. And, of course, Mia is at the center of it all.
 
Judson's plot risks overcomplication at times, especially as it flashes back to events and memories occurring six years prior to the narrative. But he pulls us through, thanks to his very assured pacing and mostly to our emotional investment in Remer.
 
The author wraps this little holiday season tale in unmistakably noir tones. There are the chilly, snowy and damp Southampton settings, so palpable at times that they could easily be a character in the story. Then there is Remer's ambiguous behavior. While a true professional at his work and a moralist at heart, we learn that he's not above taking troubling matters into his own hands whenever threatened or wronged.
 
VOYUER is a very involving and satisfying novel, especially for those who like their stories and characters on the darker side. But be prepared to tap the thermostat up a notch or two as you get into it. —Alan Cranis