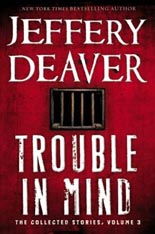 Thriller author Jeffery Deaver doesn't have to bother with short stories. His popularity is such that his name on any novel — be it a stand-alone or one of his ongoing series — guarantees it will be a national best-seller.
Fortunately, like many other popular genre authors, Deaver remains fond of the short fiction format, as evidenced by his two previous collections (2003's TWISTED and 2006's MORE TWISTED) and now TROUBLE IN MIND: THE COLLECTED STORIES, VOLUME 3, half of whose contents are appearing in print for the first time.
In his introductory note, Deaver explains that the novel format allows him to build intensity by creating multidimensional characters and including several subplots with various levels of conflicts. Short stories also need to be as involving, but do not allow this formula.
"The answer," he reveals, "is to go for the gut with a shocking twist, a surprise, the unexpected." The 12 stories that follow demonstrate his ability to deliver on this technique.
 
Knowing that his fans likely discovered him through his series, Deaver devotes four of the stories in TROUBLE to his three franchise stars. In "Fast," Kathryn Dance uses all her interrogation skills on an impenetrable suspect who could prevent a domestic terrorist attack that threatens the lives of as many as 200 people.
 
"Obit," the shorter of the two tales featuring Lincoln Rhyme, Deaver's signature character, shows the results of the New York Police Department publishing the obituary detailing the death and distinguished career of a certain celebrated criminologist.
 
In "Paradise," former movie stuntman turned location scout John Pellam is involved in an auto accident while working near a small Colorado town. While waiting for his van to be repaired, Pellam discovers that one of the other victims of the accident is a brutal murderer.
Another feature of short stories Deaver admires is being allowed him to step out of familiar genres more easily than in novels. So while assuring readers that his books will continue to contain the kind of murder mysteries they expect, he explores slightly different orientations in his shorter works.
 
A fine example of this is "The Therapist," a haunting tale about a psychotherapist convinced of the existence of negative energy influences (or "nemes," as he calls them) that consume individuals and control their behavior … with often murderous results.
 
With TROUBLE weighing in a nearly 480 pages, its dozen pieces are obviously longer than what might be expected of "short" stories. But thanks to Deaver's skills at character depiction, plot pacing and "the unexpected," readers will find themselves easily immersed in the stories after the first few sentences. The pages then fly by with all the ease of stories less than half their length.
 
If you know and admire Deaver exclusively from his novels, as is probably the case with the majority of his vast readership, you owe it to yourself to experience him in these shorter works. You won't be disappointed; you are likely to be reminded of what we love about the author and his prolific backlist. —Alan Cranis