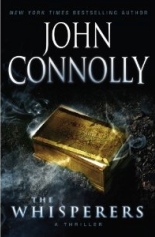 John Connolly's THE WHISPERERS starts off with promise: In Iraq, a museum full of ancient and valuable artifacts is ransacked, and millions of dollars of precious items are stolen. One such item is ominously reported to cause its owners to hear whispers after prolonged contact …
Fast-forward to the present day, when Iraq War veterans are back home in Maine, and the newspapers are starting to report more and more suicides. These deaths are chalked up to PTSD, but P.I. Charlie Parker thinks there is more to it than that. When he is carjacked, tortured and humiliated for information, the case turns personal as he attempts to find out what, exactly, is being smuggled across the Canadian border and why these soldiers are dying.
The premise of the novel seems to guarantee a fast-paced, action-packed adventure, with a bit of paranormal intertwined with a good, old-fashioned mystery. Unfortunately, Connolly's story is slow to pick up, with more than half of the 400 pages reading like setup. Furthermore, he has an annoying habit of starting chapters with "I" or "They" or "We" without ever clearly identifying who the subject of any given storyline might be, leaving the reader with a variety of stories to puzzle together.
Those who enjoy bulky mystery novels will certainly find some entertainment in this, as Connolly's writing is strong where his plotting lacks, but unfortunately, the complicated, multicharacter storylines — coupled with what felt like an exceedingly slow pace — did not provide the altogether satisfying summer read that the back-cover blurb had promised to deliver. —Kerry Serrini
OTHER BOOKGASM REVIEWS OF THIS AUTHOR:
• THE BOOK OF LOST THINGS by John Connolly