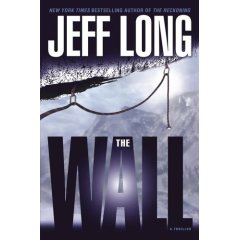 I'm now officially a Jeff Long fan. In his newest thriller, THE WALL – the first of his I've ever read – two best friends who spent their granola-gnawing hippie days climbing rocks meet back at their old stomping grounds in Yosemite National Park to scale the Anasazi Wall as one last hurrah.
Their trek has bad omens affixed to it before they even start, as Hugh finds the dead body of a fallen female climber. But both he and Lewis have demons to escape; Hugh, still smarting at the death of his wife, and Lewis, oblivious that his wife will have left him by the time he returns to ground level. Without knowing it, they take their mid-life crises with them, and stumble upon some new ones, including a crazed, feral mountain man who has absconded with the body of the girl Hugh discovered. Their situation complicates when their paths cross with a brash, young search-and-rescuer obsessed with locating his missing girlfriend, one-third of the party that included the woman who plummeted to her death. Hugh and Lewis not only learn that they can't relive the glories of the past, but also that their future isn't looking all that lengthy.
Since heights is one of those universal fears, Long's scenario has "harrowing" already built in. But an avid climber himself, he makes it credible. It may take a little while to get used to all the gear terms bandied about, but, um, hang in there, as this is first and foremost a thriller; experience not necessary. In making Hugh and Lewis so real and wraught with emotions, you feel for them and their individual plights before they even tape up for the climb. That's what makes their ascent all the more suspenseful, as Long gradually ratches up the elements of horror and mysticism. While I don't think the ending will come to as a surprise to many, the manner in which it does may, affixed with a disturbing revelation that will haunt you days after you reach the final page. –Rod Lott
Buy it at Amazon.