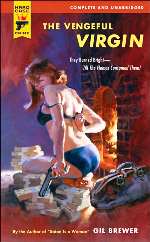 Anyone want to spend some time with a 49-year-old virgin? And by that, I mean Gil Brewer's THE VENGEFUL VIRGIN, originally published in 1958 and now brought back to its unabridged glory by Hard Case Crime.
This taut little thriller may reside in a familiar milieu, but builds toward an unpredictable – but sensible – end. Our narrator is Jack Ruxton, a TV salesman whose life changes when he makes a house call to the Spondell home, where an old man on his last leg in life needs some bedside entertainment.
There, Ruxton finds a different kind of bedside entertainment of his own, in the shapely, sweatered form of Shirley Angela, Mr. Spondell's 18-year-old stepdaughter and sole caretaker. She's tired of the routine and eager to get her hands on the six-figure inheritance Spondell has agreed to leave her upon his death. With Ruxton on the scene, she's convinced she can speed things up.
As is usual in these old pulp novels, all it takes is a little vagina for otherwise sensible men to agree to murder. Shirley gives Jack plenty, over and over again, though its restrictive '50s birthdate makes the sex wonderfully tame, all imagination and suggestion: "One full breast was bared, shaped like a honeydew melon. … She looked hot enough to catch fire, but too lazy to do anything but just lie there and smoke."
Their plan is pretty solid, but when a complication steps in – notably thanks to technology outdated today – things go from bad to worse, and even worse, and even worse. Brewer's prose is effortless, and once the plot turns a heavy 180˚ at the halfway point, the second chunk flies by super-fast. Like, FedEx First Overnight Fast.
I'm guessing Brewer was a breast man, because they garner as much detailed description as anything else. It's pretty appropriate, since Ruxton has sex on the brain. He's a deeply flawed protagonist who likes to hit women. And shove them. And even wants to rape them. And yet, for some dumb reason, we like him. Why?
Because that's what good pulp does. –Rod Lott
OTHER BOOKGASM REVIEWS OF THIS AUTHOR:
• WILD TO POSSESS / A TASTE FOR SIN by Gil Brewer