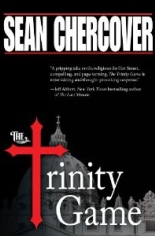 In Sean Chercover's THE TRINITY GAME, Daniel Byrne is a priest who works a very special job for the Vatican: investigating supposed miracles, all of which he has debunked thus far. At the novel's start, he's in the process of one such job, in which a young girl was taking nails to her hands in her room — not true stigmata, as the people of the area believe.
This leads into his latest case, although Daniel's superiors are not sure he is the man for the job … because the miracle in question involves Daniel's estranged uncle, Rev. Tim Trinity, one of those sleazy evangelists who makes his money bilking rubes.
As Daniel witnessed through his youth, Uncle Trinity is nothing but a con man. But something has changed: Trinity has started speaking in tongues, and not just some sort of gibberish. By all accounts, he's speaking backward at a varied speed. After some research, it's determined Trinity is spouting is a wide variety of weather reports, upcoming news and sporting events.
The real kicker? Everything he has said in tongues so far has come true. A laundry list of people want Daniel to stop investigating. Even the Vatican hires its own goon squad.
THE TRINITY GAME is filled with questions of faith and conspiracies. It becomes a religious thriller of sorts, with secret societies playing roles throughout the story, while Daniel has to come to grips of his own faith and calling, especially when his past catches up to him.
Chercover really cuts to the quick with this one. Readers of his past work in the crime genre — particularly the excellent BIG CITY, BAD BLOOD — will find no dips. Some parts enters that suspense world of grain-of-salt time, while others seem reminiscent of men's adventure books — nothing too over-the-top, but this is a thriller, so of course you'll find moments which come too close to call.
On the whole, THE TRINITY GAME is a blast of a read which flies at a quick pace. I expect this one to be a hit — sure to be seen on beaches all summer long. —Bruce Grossman