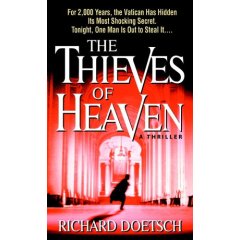 If Dan Brown's THE DA VINCI CODE is the anti-matter of Catholic and Christian fiction, then Richard Doetsch's THE THIEVES OF HEAVEN is the matter. And it does matter because it's a superb debut novel, a gripping thriller crossed with a strong emotional grid that should make it appeal to a large section of the reading public.
I think what amazes me most about this book is not its sheer ambition for a first novel (the forces of the Lord meet Satan head on in a battle for a religious artifact), not the humility of the author and his writing style (Doetsch's main claim to fame in the blurb is that he's the head of a real estate company, and his style is straightforward without tics or ornament), but that Doetsch is really quite good at laying the subtle groundwork of hints that play out later in the book. You read something, and an experienced reader goes, "Hmm, I wonder if…" and then 40 pages later, it plays out. But it's not always predictable, and that really is quite a feather in the author's cap.
Doetsch's characters strike one at the emotional core even though they are clichés. Michael St. Pierre is the felon thief who has gone straight due to the love of his life, Mary. The two are befriended by a brusque and burly parole officer who has a heart of gold. Yeah yeah yeah, we've seen it before. But it works here in the milieu of Christian belief and Catholic symbology. And Doetsch works hard to give everyone in this book a background, a motive, a life beyond the page.
Now don't go getting your knickers in a twist. This isn't some version of the LEFT BEHIND series. Nor is it Christian dogma masquerading as an action-adventure novel. It's an exciting tale of a brazen theft that has implications far beyond what the thief originally expected. And when the thief must get re-involved in the caper, the stakes ratchet up another notch. This might be a bit too over the top for those who like their mysteries colored with the pomp and circumstance of the Catholic church (think G.K. Chesterton, Ralph McInerney and hundreds of others), but the muscle of the church and the strength of its believers shines through in this book, and if that doesn't scare you, then this perhaps should be on your buying list. –Mark Rose