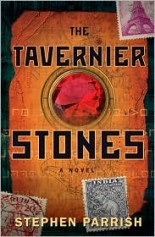 I have to admit, the idea of a mystery based on equal parts cartography and gemology seemed as interesting to me as listening to a systems analyst describe what he/she did at work today. But somehow, first-time author Stephen Parrish lines THE TAVERNIER STONES with interesting tidbits from both professions, just enough to inform the reader about a specific plot point. Then he gets back to the action before the reader's eyes glaze over.
I'm not saying STONES is a compelling page-turner. There are moments when the story gets bogged down in too much character back-story and one too many details about 17th-century mapmaking. Imagine watching an INDIANA JONES movie and Harrison Ford spends 30 minutes deciphering a Latin text. (Actually, now that I mention it, that sounds more interesting than the last INDIANA JONES movie.)
The story starts with the line, "There's a dead guy out there," a good hook that draws the reader in. One can imagine the author coming up with that line while still formulating the plot of his novel in his head, smiling to himself and thinking, "Yeeaahhh." And really, how can you go wrong with a book that begins with the discovery of a murdered 17th-century mapmaker?
It isn't long after the discovery of said body that we are introduced to our international cast of characters: Gerd Pfeffer, a hard-drinking German homicide detective who is being cuckolded by his wife and her lover ("Mr. Dick"); John Graf, born and raised Amish, but ex-communicated because of his desire to further his education and become a cartographer; David Freeman, former gemologist turned scam artist and amateur magician hobbyist; Frieda Blumenfeld, a German former grande dame desperate to keep her tenuous hold on high society, despite losing her fortune and incurring a short prison stay; and so on. The large cast becomes unwieldy at times, but the story takes off when everyone begins searching for the fabled Tavernier Stones.
There really was a Jean-Baptiste Tavernier, as well as a Johannes Cellarius, the "dead guy" in the beginning of the book whose discovered corpse in a German bog sets off an international hunt for a fabled lost treasure. Author Parrish is a cartographer and gemologist himself, so one can see how he must have spent many days hunched over a dusty tome and asking himself, "What if …?" I'm guessing that — plus a steady diet of Robert Ludlum and Dan Brown novels — convinced Parrish to interconnect all of the various threads of plot he had into this one book. And for the most part, it works.
There are a few dry areas, a few scenes run on too long, and a few moments when I wondered why the editor didn't catch this or that, e.g. a former underwear model turned thief's accomplice suddenly becomes insightful in deciphering centuries-old clues. But really, Parrish keeps the dialogue light, throws in more than a few witty scenes (although one bedroom escapade culminates in a scene that would have been considered too over-the-top for an episode of THREE'S COMPANY), and ties it all up in a neat and satisfying bundle at the end. What more could you want from a late summer read?
If THE TAVERNIER STONES makes it to the silver screen, I vote for Helen Mirren for the role of Frieda Blumenfeld. Or maybe Martha Stewart. —Slade Grayson