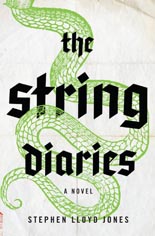 Stephen Lloyd Jones' debut, THE STRING DIARIES, has a cold open in remote Welsh countryside, Hannah at the steering wheel and racing away from something, her husband Nate bleeding out in the passenger seat, young daughter Leah asleep in the back. They come to a cottage, and Hannah–with amplified, paranoid dread–investigates to see if it's safe, if they've truly escaped. Jones then (sly devil) shifts timeframe to some 35 years earlier, an awkward Oxford academic circling around some woman who's had the audacity to take his favorite table in the library.
A further storyline compounds our confusion, a young man of noble birth engaged in some sort of coming-of-age ritual amongst an elite tier in late-19th-century Hungary; the youth is some sort of outcast, strangely dispossessed from expectations for his class.
The opening of DIARIES exploits these gear-shifts for maximum nail-biting suspense. The story lines on their parallel tracks keep setting up new mysteries, crescendoing to cliffhangers, and we readers feel that tick-tock fascination, wondering what's going on, worried about what will happen next.
Unfortunately, when the reader's confusion dissipates, the novel gets a lot less interesting. The interplay of the stories too soon (and too easily) reveals tick-tocking seems more like a frustrating tic, a rather obvious perils-of-pauline cross-cutting. The plot has perhaps one big revelation that I won't spoil here, although I will note that it's perhaps less innovative than the hype might suggest, but even assuming a big gasp there's still an awful lot of novel following, and that "awful lot" is an extended chase sequence that gallops along well-worn ruts. The characters are stock types from central casting. A bit of baroque Hungarian folklore doesn't really offset the quotidian prose and plotting.
All well and good, I suppose: DIARIES is a potboiler that passes the time pleasantly enough. My disappointment stems largely from the promise of the early chaos. The adrenaline burst of the first fifty pages as I struggled to get my bearings was great fun, and the let-down that follows on isn't entirely the author's fault. On the other hand, if all you've got is one punch, you don't really want the match to go a full, drawn-out 12 rounds. THE STRING DIARIES is a lean thriller swallowed by a sluggish melodrama. —Mike Reynolds