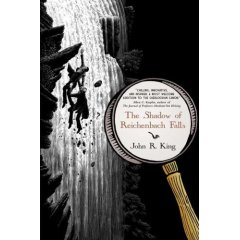 So what happened to master detective Sherlock Holmes after archenemy Professor Moriarty threw him over the thousand-foot-tall Reichenbach Falls, presumably to both their deaths? Unofficially, of course, John R. King provides the answer in THE SHADOW OF REICHENBACH FALLS, a largely enjoyable pastiche of Arthur Conan Doyle's enduring crimefighter.
William Hope Hodgson's character of ghost-fighter Thomas Carnacki is wooing a lovely young woman named Anna at the falls — where she says her father died years earlier — when they observe a struggle between two men that ends with both plunging over the side, certainly to a demise.
But they rescue a body they find floating below: that of Holmes. Yet the experience has rendered Holmes an amnesiac, so neither he nor they know who he is. He even wonders about the holes in his arms (opium or cocaine?). There's little time to figure it out, because Moriarty also survived, and he wants to finish what he started, sending them running for their lives. Other than not knowing his identity, he's still the same ol' Holmes, using his noodle when necessary, whether counting steps to determine the time or singing at just the right pitch to break up an ice crevasse in which they're caught.
About a third of the way through, following a betrayal, the narrative shifts away from this action and into the journals of Moriarty, telling his life story from a child to finding love with a prostitute he reforms, impregnates and murders. He's a good egg until tragic events turn him evil. I won't spoil them, but suffice to say, it's an explanation Doyle would never have used.
That sets the final act into motion, with the trio again encountering Moriarty. With elements that ring like a 19th-century EXORCIST, thereby finally giving Carnacki something to do. (Up until then, you're left wondering why King picked him at all.) Following a reliably swift and enjoyable first two-thirds, this last act comes across as anticlimactic, with an art heist that feels like an afterthought. Yeah, it also has a cool walking skeleton, but that scene last all of a couple pages.
King's biggest trouble is in the multiple viewpoints, one per chapter. Most alternate between Carnacki and Holmes, the middle is all Moriarty, and some chapters are from an omniscient narrator. Since none are marked, it takes a moment to figure out just whose head — if any — you're in, requiring a slight reboot with each subsequent chapter. It's a slight annoyance.
As far as Holmes pastiches go, however, it's a good one, especially since it's not necessary to be a Holmes scholar to enjoy it. It may not reach the caliber of Nicholas Meyer's efforts as the press materials tout, but I found it to be more pleasurable than Caleb Carr's THE ITALIAN SECRETARY and Michael Chabon's THE FINAL SOLUTION, both of which succeeded in making Holmes rather dull. King has no such problem. —Rod Lott