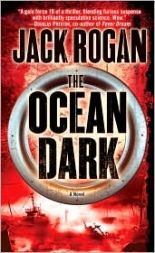 Jack Rogan's debut novel certainly doesn't read like an author's first mystery, deftly combining the supernatural — or preternatural, or simply the natural, but the unknown — with a decent amount of smuggling, FBI drama, deception, sex and blood and gore, if not necessarily in that order. Sound like the perfect combination for a read-it-in-one-day thriller? It is, and I did.
THE OCEAN DARK sets itself apart from your typical cop thriller from the get-go: A group of fishermen smuggling guns through the Caribbean sets a rendezvous near an unknown and uncharted island. When they arrive at the specified location, they find the shallows filled with decades worth of shipwrecks — sailboats and schooners, cruise ships and fishing boats. The sound of strange songs across the water seems to predict doom and gloom — rightly so, because soon, all but one of the sailors are dead.
Back on the Antoinette, the cargo ship meant to pick up the guns, the new galley chef and the company's onboard representative cook up a steamy romance (pun absolutely intended), while the crew members get jittery as they realize trouble is brewing with the arranged pick-up. When it is discovered that there is also an FBI agent among them disguised as a new employee, suspiscions arise, fingers are pointed, punches are thrown.
 
But don't worry, that's just the first chapter, so I haven't ruined things for potential readers.
 
Rogan's plot is essentially split into two parts: the first detailing the trials of the respective crew members with unknown, but deadly singing underwater monsters, who have an undetermined level of intelligence, and the second detailing the government's interference into this battle with the unknown in the name of "national security."
 
With enough story to keep the pages turning and enough description to keep the pages interesting and engaging, Rogan's first novel proves a successful thriller. And unlike so many authors of the genre, he has mastered the art of a loose-ends close, with enough pieces left open to carry characters into more novels, but not so blatant as to be too neatly pulled together or too set up for future scenarios.
Hats off to you, Rogan, and here's to hoping we see more from you. —Kerry Serini