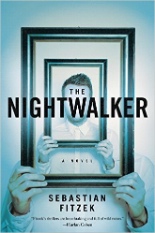 Sebastian Fitzek is known for his willingness to take chances with the mystery genre, and his predilection for layering twists and turns into the story so you're not always sure of the reality of what you're reading.
And there's plenty of that in THE NIGHTWALKER, a book that starts with an intriguing premise, turns it around multiple times, and ends with … well, I won't spoil it, but frankly, the ultimate ending was far less satisfying than what had come before.
Leon Nader has been a sleepwalker since childhood. Orphaned at an early age, his first foster parents returned him to the child agency because they found him standing over the foster parents' other son with a bread knife in his hand. Even though he was sleepwalking, it was too much for the family and they had him removed from the house. Luckily, his second set of foster parents was more understanding. They got Leon the psychiatric and medical help he needed and he has grown into a successful and happy young man. He has a thriving architectural practice and he's married to a beautiful woman.
Until he wakes up one day and that beautiful woman is crying, packing a suitcase and leaving him. She has been beaten so badly that one eye has swollen shut, she's lost part of a tooth and there are other scars. Has Leon done this in his sleep? He certainly thinks so. Is he losing his mind and is all this starting up again?
It gets worse, much worse, when he attaches a motion camera to his head to record his movements during sleep. When reviewing the video, he sees himself get up in the middle of the night and open a secret door in the wall of his apartment behind a heavy wardrobe. He had never seen the door before in daylight but somehow, there he is on tape, moving the heavy wardrobe and opening the door that has two complicated locks. How does he know how to do this? Just what the hell is going on? And why won't his wife answer her phone? Of course, eventually, he discovers his wife's phone behind the locked secret door and now he's really worried that he's done something very terrible.
Yeah, that's a good setup. And throughout almost three-fourths of the book, the story is very gripping and tense. Leon's discovery of the secret door and mysterious passageways in the walls of this ancient apartment building bring to mind the fearful tension of Mark Danielewski's HOUSE OF LEAVES. Leon's sense of reality is constantly tested by the impossible labyrinth inside the building, and the impossibility of the things he discovers there. And all the while, he is scared to death to go to sleep, and scared to find out whether he may have killed his wife.
It's a good book but the final ending makes everything too pat and a little ridiculous. It diminishes the reader's sympathy and horror as Leon grapples with his sanity. Still, Fitzek is interesting as a writer, tricky, and never dull. Worth a shot if you're good at suspending your disbelief. —Mark Rose