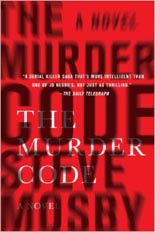 Detective Inspector Andrew Hicks has a focused — and reasonable — confidence in statistics. Cops don't work on "some sharp flash of insight that leads … to the culprit"; "real life tends to be more mundane — and reassuringly so." Hicks believes in the steady drumbeat of thorough procedure, of ticking off the boxes as you track through a crime scene.
He also believes in playing the odds: Murders happen for a few specific sorts of reasons, and the people perpetrating tend to have specific, reliable sorts of relationships with the victim.
THE MURDER CODE rather deviously sets out to up-end Hicks' assumptions without falling into the "movie" trap, where the murderer proceeds from some arcane, highly individualized motive and the cop nabs him through some equally absurd intuitions. And Steve Mosby, rather deviously, succeeds; the novel is a gripping procedural built on the hokey foundations of the serial-killing mastermind playing games with the police.
People are being murdered seemingly at random. The gruesome method is a brutal assault with a hammer, leaving bodies with no faces — in fact, with the entire head obliterated. Hicks and his partner Laura Fellowes are confounded by crime scenes that are physically adjacent but otherwise utterly disconnected. The situation worsens when they begin receiving notes from the killer, taunting that he's devised an uncrackable code. Discern the pattern, and you'll prevent the next crime.
Where Mosby goes next is not where you'd expect. Or, rather, he teases you with familiar puzzle pieces (occasional perspective shifts that focus on the anonymous killer's preparation, or on disconnected characters' lives that do not initially seem related; a set of personal travails that cast a shadow over Hicks' narration), but as you put them together, the picture revealed isn't what you'd first envisioned. THE MURDER CODE compels the kind of white-knuckle reading I associate with Jeffery Deaver and Thomas Harris, where the rug is constantly being pulled out from under us — the pleasures of the puzzle driving you through the novel, late into the night.
Yet Mosby also manages to eat fire and ride a unicycle while juggling chainsaws. He sets up that central question about what sort of detective story this is — the realism of the procedural or the metaphysical malarkey of dueling murderer/detective geniuses? — and then proceeds to have his cake and eat it, too, producing a thriller that satisfies on both fronts. Further, the narrative acrobatics are complemented by real care in the construction of his characters, and Hicks in particular has the kind of broody self-doubt and complexity you find in the detectives inhabiting the work of Val McDermid or Ian Rankin.
Mosby has a great reputation in England, and, while THE MURDER CODE is his American debut, most of his other novels have become available, as well. I can't wait to dig through the pile; I think it's playing the odds to assume his reputation is well-earned. —Mike Reynolds