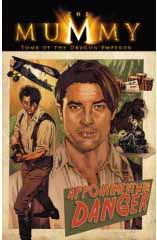 Before undertaking THE MUMMY: TOMB OF THE DRAGON EMPEROR at a theater near you, get back into the groove with IDW Publishing's official comics prequel THE MUMMY: THE RISE AND FALL OF XANGO'S AX, scripted by Joshua Jabcuga and illustrated by Stephen Mooney.
Taking place presumably before the events of the new film, this four-chapter adventure isn't a prerequisite for seeing or understanding the events in EMPEROR, but it's a great way to reacquaint yourself with the globetrotting, treasure-hunting, mummy-hating O'Connell family.
As the story opens, Smithsonian archaeologist Lord Horwood has gone missing, with his whereabouts unknown. He turns up on a train traveling through Burma, and Rick O'Connell and his now-grown son Alex are also passengers. Any hopes for a smooth ride are quickly diminished when the train is attacked by an army of the undead, in search of the fabled Third Eye of the Shangri-La, a sparking hunk of a ruby rumored to belong to Xango, the god of thunder.
Rumored? When a gang of mummies riding mammoths crashes your party for a jewel, I'd say it's fact. And indeed, the stone is so precious that Horwood has a great hiding spot for it: in his empty right eye socket. Eew!
The choo-choo is derailed, sending our heroes into an underground cave, then a desert with giant, man-eating plants and even bigger vampire bats, before coming face to face with Xango himself. As structured by Jabcuga, who envelopes the proceedings in a movie-palace-set wraparound, the story purposely plays like a period serial from the days when do-gooders like Flash Gordon, Zorro and Jungle Jim ruled the screens at every Saturday matinee, one brief installment at a time.
In other words, it's just like the MUMMY movie franchise, and that means unapologetic fun. The coloring is a little grim, but there's no mistaking that XANGO is true to the pulpy spirit of its source material. Mooney does a fine job helping make things sing, save for a few panels where Rick O'Connell looks more like a preppy zombie than star Brendan Fraser.
Speaking of, eight pages of color photos of Fraser — some shirtless — inexplicably and needlessly close out this volume. It's not that I'm against the inclusion of movie stills, but why not consider the target reader and offer up some Maria Bello? Me-ow! —Rod Lott
OTHER BOOKGASM REVIEWS OF THIS AUTHOR:
• SCARFACE: DEVIL IN DISGUISE by Joshua Jabcuga and Alberto Dose