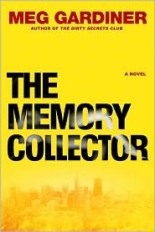 THE MEMORY COLLECTOR is the second novel to feature Meg Gardiner's forensic psychiatrist, Jo Beckett, following last year's impressive debut in THE DIRTY SECRETS CLUB. Here, Gardiner promptly removes her protagonist from her usual professional circumstances, racks up the suspense to full-blast and produces a superb, high-octane, white-knuckle thriller.
Beckett's specialty is the psychological autopsy; that is, an examination into a person's life to determine if a death was natural, accidental, suicide or homicide. Or, as she likes to say, she's a deadshrinker instead of a headshrinker. But one evening, she responds to a call from airport security in the vicinity. They need an immediate evaluation on a man named Ian Kanan who started acting erratic and near-violent as his plane landed in San Francisco from London.
After some initial questioning, Beckett orders an MRI, and the results confirm her suspicions: Kanan has anteretrograde amnesia – the kind that destroys newly formed memories. That means Kanan knows who and what he is, but can't remember what happened to him as recent as five minutes ago.
Beckett tires to determine what caused this condition, but Kanan is cagey and will only admit that he has been poisoned, or contaminated, as he says it. Then, while Beckett confers with other doctors and the police, Kanan escapes from the hospital.
 
As Beckett investigates and interviews those close to or associated with Kanan, she learns that Kanan was a security agent working for an exclusive firm developing nanotechnology products. One such product, developed for national defense, was stolen from a lab in Africa, and he was dispatched to retrieve it. Exposure to the product caused his short-term memory loss, yet Kanan has pieced together enough details and is either carrying out his mission or seeking revenge on those who damaged him.
But the deeper Beckett probes, the more dangers she uncovers. Among them, the product that literally rewired Kanan's brain is highly unstable and, if not properly handled, could endanger the entire city population.
Gardiner opens the novel with two chapters of seemingly unrelated events in opposite corners of the world. It feels slightly disorienting, but the events and characters involved are intriguing enough to carry us on to Beckett's appearance at the start of the third chapter. From that moment on, the pace kicks into overdrive and hardly lets up as we follow Kanan on his confused quest and Beckett in her search to discover what it all means.
 
Along the way, Gardiner spices things up with plenty of action, deceptions and double-to-triple crossings, and evocative settings all across her San Francisco location. Beckett hardly has time to catch her breath — or enjoy the company of her new boyfriend — before she is thrust back into the race to find Kanan and the product that caused all the trouble.
 
The nanotechnology element, which distinguishes the story from just another chase after someone with no memory, might have been a major problem. But Gardiner wisely spaces out the detailing of the dangerous product over the course of several chapters. And those details, when introduced, are layman enough for all of us to understand and fear.
 
Gardiner has frequently been compared to such popular thriller authors as Nelson DeMille, Lee Child, Jeffery Deaver and several others. But with THE MEMORY COLLECTOR, she easily joins their ranks as an equal and, in terms of character depth, pacing and sheer page-turning entertainment, surpasses most of them and leaves them eating her dust.
 
It's the kind of novel that, once started, makes you eternally grateful for voicemail, but might also challenge your ability to function with as little sleep as possible. Yeah, it's that good! —Alan Cranis
OTHER BOOKGASM REVIEWS OF THIS AUTHOR:
• CHINA LAKE by Meg Gardiner
• THE DIRTY SECRETS CLUB by Meg Gardiner