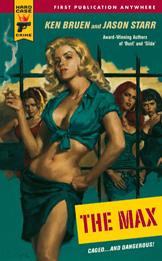 THE MAX is the third installment from Hard Case Crime of the Max and Angela series by the transatlantic tag team of Ken Bruen and Jason Starr. Like its predecessors — 2006's BUST and 2007's SLIDE — it's fast, violent, sexy, outrageous fun. In other words, just the thing to fill a late-summer afternoon on the beach, hammock or backyard.
Max Fisher, a former New York CEO reborn as a drug trafficker, has been arrested and sentenced to prison. But he's outraged to learn that instead of some cushy, white-collar Club Fed, he'll be doing time at Attica. Max, you see, is powered completely by self-delusion. He absolutely reeks of it. But just as he fears the worst for his fate in prison, stories of a castration/murder he merely witnessed are mistakenly attributed to his actions.
Suddenly his yard cred is jacked up big-time, and he is coveted by every gang at Attica, including the Crips and the Aryan Brotherhood. And Max, of course, loves and unashamedly basks in the false notoriety. Soon his cell mate brings Max into his confidence and reveals plans for a prison break. All the while, racial tensions build up to the threat of a full-blown riot.
Meanwhile, the gorgeous and hot-tempered Angela Petrakos, Max's Irish/Greek former mistress, flees the U.S. after a few failed attempts to bump Max off, and lands on the Greek isle of Santorini. Soon she's fighting off the advances of her landlord Georgios, and ends up slitting his throat.
She catches a ferry to the neighboring isle of Lesbos, but the police find her and throw her in jail, where she briefly lives up to the promise of the book's Glen Orbik cover painting. She
escapes again and, gathering what little money and self-respect she has left, flies back to the States and tracks down Max in Attica as her last, desperate hope.
Two new characters are introduced in the midst of all this, and quickly become intertwined with Max and Angela. There's Sebastian, a pretentious British leech who survives on charm and the occasional larceny. He has a fling with Angela on Santorini and later is forcibly enlisted by Georgios's cousin Yanni to track down Angela and avenge Georgios's murder.
And there's Paula Segal, a failing crime fiction author who is convinced by her agent to try writing a true crime book. She decides to investigate the story of Max and soon sees it as her ticket to literary fame and fortune.
In SLIDE, Bruen and Starr indulged in some subtle and not-so-subtle digs at each other, which got old real fast. Here, they indulge in satiric shout-outs to many of their fellow crime fiction practitioners. There are numerous references to the likes of Tess Gerritsen, Dennis Lehane, Michael Connelly, Richard Aleas (the pen name of Hard Case's publisher) and several others.
But the most frequent name-dropping goes to Lee Child and Laura Lippman. Sebastian could pass for Child's twin and is often mistaken for the author by enthusiastic Jack Reacher fans. And Paula, newly awakened to her lesbianism, has a heavy-duty crush on Lippman, to the point of accosting her at a book signing. All this is fun for the crime fiction cognoscenti, but will probably leave those less than widely read out in the cold.
Still, Bruen and Starr's intention is nothing more than to entertain. And they fulfill this in grand style. As outlandish as the characters and their actions become, you keep rooting for them, laughing all the way. And the authors's combined trademarks are all here: the street-smart idioms; chapter-heading inscriptions; the good-natured pokes at the Irish, British and everyone else; plus enough literary referrals to compile a long list of further readings.
Fan of the series, as well as the legion of Bruen and Starr readers, will need no further convincing to get hold of this latest bit of twisted madness. Everyone else should, too. —Alan Cranis
OTHER BOOKGASM REVIEWS OF THESE AUTHORS:
• BUST by Ken Bruen and Jason Starr
• SLIDE by Ken Bruen and Jason Starr