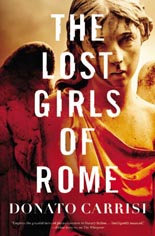 Donato Carrisi's THE LOST GIRLS OF ROME is such a mishmash of a book that I really don't know what to say. It's not that it's bad — it's just very, very confused and confusing, with multiple plotlines, multiple time shifts (most of which are unnecessary), multiple characters (ditto) and an insistence on dragging in the Vatican and a mysterious religious order just to give the whole thing a Dan Brown-ish effect.
This time, instead of the Opus Dei, it's the Paenitentiaria Apostolica (a real tribunal of the Roman curia), a group of high-level priests privy to the most heinous confessions ever made by Catholic citizens.
Someone confesses their crime to a local priest; the local priest informs them that they may be absolved, but it must be referred to a higher court, and this is where the Paenitentiaria comes in. For centuries, they have kept a catalogue of the most notorious crimes ever committed — and who committed them. Apparently, they have also taken it upon themselves of late to exact justice or, in a more complicated twist, to cause revenge to be taken on the criminals by other folks associated with the case (policemen, relatives, etc.).
Our main (mostly) protagonist is a priest named Marcus who is one of the penitenzieri. Conveniently, he is suffering from severe amnesia, so he can't explain why there is a picture of him in the camera of a young photojournalist who died by falling from a building in Rome. That man's wife, policewoman Sandra Vega, has traveled from her home to Rome to find out more about the "accident."
Her investigation leads her to Marcus, the penitenzieri and a man named Schalber from Interpol who is investigating Marcus and his ilk for their actions beyond the law. Oh, yes, the Paenitentiaria has been banned by the Vatican, but they apparently still existed secretly, and while Marcus is definitely one of them, they're also trying to find all the others whose names and locations are unknown. Because you see, one of the members of the organization has gone rogue and it is this person who is leading Marcus on a trail of clues to various crimes that … oh, whatever.
Maybe. At least that's what I got out of it. I don't know if it's deliberately Carrisi's style or the translation by Howard Curtis, but I think most readers will experience some uncomfortable discontinuities in the tale. While there are some powerfully written emotional vignettes throughout, especially when Vega remembers her lost love or when a victim's mother realizes exactly where the heart of her missing boy is located, the book is also peppered with worn-out clichés and a string of bizarrely complicated clue trails that no crook would ever leave in real life.
Let me give you an example: Vega finds the luggage of her husband. In there is a camera with four photographs. Each of these photographs seems to contain an important clue to what her husband was working on and possibly what caused his death. One of them is a shot of the man taking a picture of himself in a mirror in his hotel room and holding up his outstretched hand (a selfie clue!). Vega doesn't know what this means. She eventually travels to Rome and stays in the very same hotel room where her husband was staying.
She gets the bright idea to call the front desk to get a list of all the calls her husband made from the room phone. There is only one number he called, but for reasons of privacy, hotel policy is to have Xed out the last three digits. Vega looks at the number, looks at the photo and almost instantly thinks that her husband's extended hand has five fingers and that maybe five is the number for each of the Xs. Of course it is. Really? He couldn't have written this down somewhere?
After about 150 pages, some of the fog clears. The parts where Marcus works on various cases, attempting to stop additional murders, all while trying to find the titular lost girl of Rome, and all while interacting with Vega's investigation into her husband's accident who was also investigating the Paenitentiaria — take a deep breath here, BOOKGASMers — can be fun to read.
But yeesh, some of this complicating madness could have been cut. We won't even discuss the "transformist" serial-killer theory which underpins the novel's philosophic backbone. It's not worth the effort.
People have raved about Carrisi's earlier work, THE WHISPERER, and it may have been great. This one, not so much. Did I read it? Yes. Were there scintillating moments of clarity and excitement? Yes. Was it kind of a chore? Also, sadly, yes. —Mark Rose