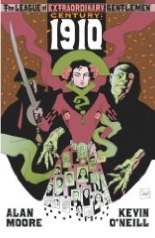 After the rather disappointing BLACK DOSSIER, I feared Alan Moore had lost his touch — not to mention his mind — thus dooming the LXG franchise for good. Those fears turned out to be unfounded, as THE LEAGUE OF EXTRAORDINARY GENTLEMEN: CENTURY: 1910 is a near return to form to the unqualified brilliance of the first two volumes.
CENTURY: 1910 is the first of a three-part epic that, once told, will span 100 years. Original LXG members Mina Harker and Allan Quatermain presumably will remain front and center the entire time, having been turned immortal in adventures previous.
The year, of course, is 1910, and Carnacki the ghost-finder is being haunted by dreams that suggest an apocalypse is forthcoming, at least as far as London is concerned, and it involves an occult sect. He, Mina and Quatermain — accompanied by new members swordsman Orlando and gentleman thief A.J. Raffles — investigate in the hopes of being able to stop the madness before it starts.
In other news, brutal murders along the waterfront have residents wondering if Jack the Ripper has returned, and a dying Captain Nemo has a special request of his daughter. All of these situations — at first seemingly unrelated — will collide by the time this mini-epic concludes in several dozen pages.
The greatest thing about CENTURY is that it's not the complete mess that DOSSIER was. However, starting it is a little like jumping into a pool on a summer day and finding the water too cold for comfort. That's because most of the characters are new and aren't introduced properly. In the past, when LXG included The Invisible Man and Dr. Jekyll, no introduction was necessary — but, really, how many among us have ever read A.J. Raffles? How many had even heard of him?
Once you get past that — or, better yet, research those characters on Wikipedia beforehand — CENTURY starts to regain some of that old LXG magic. It's smart, odd, exciting and more than a bit daft. As usual, it's chock full of literary allusions — among the more obvious ones, I spotted nods to Edgar Allan Poe, Wilkie Collins, Wiliam Shakespeare, H.P. Lovecraft, Herman Melville and the sailor known as Sinbad. (Oh, and I spotted Andy Capp!)
With Kevin O'Neill's excellent art and Todd Klein's ace lettering, Moore continues to keep LXG with its original family — and this time, without the off-the-rocker aunt with dementia. Welcome back. Now don't screw it up again. —Rod Lott
OTHER BOOKGASM REVIEWS OF THIS AUTHOR:
• ALBION by Alan Moore, Leah Moore and John Reppion
• AMERICA'S BEST COMICS PRIMER by Alan Moore
• THE LEAGUE OF EXTRAORDINARY GENTLEMEN: BLACK DOSSIER by Alan Moore and Kevin O'Neill