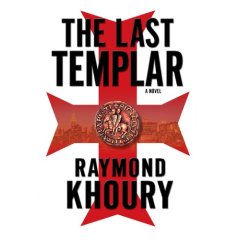 THE LAST TEMPLAR, you had me at "beheading." MI-5 screenwriter Raymond Khoruy's first novel begins with a bang, as the opening night of a Vatican treasures exhibit at the Metropolitan Museum of Art is rudely interrupted by the arrival of four horsemen dressed as Templar Knights, who ride right up the steps and decapitate a guard before making off with an ancient encoder. By page 15, I was hooked.
It wasn't until around page 200 that the hook came free. I really liked the first half of the novel, where FBI Agent Sean Reilly and archaeologist Tess Chaykin search for the encoder, thought to decipher ancient Templar texts that destroy the very foundations of Christianity, all while the horsemen meet grisly fates by an unknown assailant. But the second half, in which Reilly and Chaykin take off for the Turkish outback in pursuit of the bad guy, is problematic. Thus begins the cycle of narrow escapes and long-winded exposition disguised as religious debate. In other words, the thrills of this thriller dissipate once the novel's core mystery is no longer just that. It simply lacks the fire and spark of a rather intruging first half.
The modern-day narrative is supplemented with the occasional jump back to the 13th century, during the time of the Templars, secret crusaders for the Vatican. But these chapters are so few and far between, their effort to serve as a thread goes unfulfilled.
Nowadays, any thriller with just an inkling of the religious historical gets tagged as a DA VINCI CODE knock-off, but THE LAST TEMPLAR is one that truly merits it, and even asks for it. The whole theory of Jesus having a twin brother and a relationship with Mary Magdalene – both points of contention in Dan Brown's book – is retread here, but given even greater emphasis, which many readers will find offensive or even blasphemous. Me? I simply found the whole thing half-hearted. –Rod Lott
Buy it at Amazon.