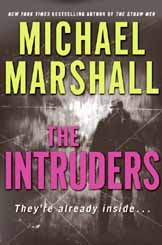 INTRUDERS alert! For what certainly will prove to be one of 2007's strangest reads in mainstream crime fiction, reach for THE INTRUDERS by Michael Marshall. Even if it may not emerge as a year's best-ender, it will not fail to confound and surprise – both on purpose.
Bear with me: Jack Whalen is a former cop turned photographer/author, who lives seemingly happily and childless with his wife, Amy, in Washington. One day, a tangential friend from his past named Gary Fisher shows up, seeking his help/advice/perspective in a strange home-invasion murder case.
Jack doesn't want any part of it; in fact, he doesn't much care for Gary, now an attorney. But later on, Gary plays a rather unexpected bargaining chip, showing him photographs of Amy. This comes on the heels of an uncharacteristic incident in which she's unreachable for a couple of days while on a business trip. It's not what you think – well, in a way it is, but it also isn't.
But it's enough to get Jack to buy in to aiding and investigating all the way. Enter a shady company with suspect business practices, and a little girl who's been abducted. How can all these threads be related? Therein lies the trick of Marshall's novel, which takes one big, bizarre turn you simply will not foresee. Hell, it practically switches genres. It's not so abrupt that it will leave you with whiplash, and it makes sense once your shock subsides.
As with Marshall's THE STRAW MEN – perhaps his best-known title – chapters alternate between the protagonist's first-person view and a third-person voice for all the events he does not witness. Luckily, Marshall handles both with assured skill. This thriller may not chill you, but it will haunt you for a good day or two with its unlikely mysteries and sorrowful, sobering conclusion. –Rod Lott