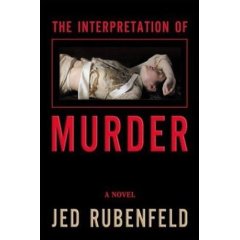 Historical thrillers long have used true-to-life people as characters (that's why they're called historical, folks), but you'll most often find the likes of Arthur Conan Doyle, Edgar Allan Poe or Harry Houdini trotted out. But debut novelist Jed Rubenfeld employs the famed psychoanalyst Sigmund Freud in THE INTERPRETATION OF MURDER, which alone makes this novel noteworthy.
The story uses Freud's one-and-only visit to America in 1909 as its diving board, with Rubenfeld imagining what occured to make the good doctor vow never to return. As expected, a twisted web of murder'll do quite nicely, thanks. Someone is strangling teenage girls of well-to-do families in New York City, where Freud has arrived to speak at Clark University. One of Freud's disciples, our fictional protagonist Dr. Younger, unwittingly becomes tangled in the plot when he's called upon to analyze Nora Acton, a beautiful young woman lucky enough to survive the latest attack.
Younger finds himself being drawn toward Nora, while Freud's teachings suggest he cannot take advantage of his patient. But plenty of others are trying, including the killer, who remains at large and wish she'd shut her mouth. Throw in "a Chinaman" with a trunk full of secrets, a strange-acting Carl Jung, swapped partners and a devious (though difficult to visualize) plot involving an underground bridge tunnel, and danger lurks around all corners (and admittedly, making things a bit more complicated than they need to be).
INTERPRETATION certainly brings up interesting points related to Shakespeare's HAMLET and themes of incest, and Rubenfeld's choice of applying Freud's theories to solving the mystery is rather ingenious. Yet – and perhaps befitting of those repressed times during which the novel is held – it holds you at an arm's length, denying you the hook of intimacy that would elevate this into a must-read.
Sometimes a thriller is just a thriller. This is that – a good one, sure, but not so good to give Rubenfeld a superego. –Rod Lott