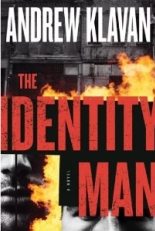 When seasoned crime fiction readers learn that Andrew Klavan's THE IDENTITY MAN is about a criminal who changes his face and name, they might be tempted to skip it: "What? Again? Hell! Richard Stark dealt with that same idea back in the first Parker novel, THE MAN WITH THE GETAWAY FACE!"
And there have been dozens of other such stories before and since. So has Klavan somehow managed to make this plot chestnut his own?
Well, sort of. But there are other reasons to read Klavan's latest novel.
Petty thief John Shannon hasn't done a robbery case for a while, but that doesn't bother him all that much. In fact, it give him more time to indulge in his woodcarving hobby and enjoy the company of his live-in girlfriend. But just as his money gets too thin for comfort, he is contacted to take part in the theft of a huge amount of cash from the safe of a local business office.
The robbery unexpectedly goes wrong when Shannon stops his accomplice from raping a woman who stumbles upon the heist. She lets Shannon escape just as the police arrive, but soon after, the accomplice gives up Shannon's name to the police, and then fingers him for an earlier murder he had nothing to do with. Suddenly, Shannon is on the run with a murder rap on his head and a life in prison — or the death penalty — if he is caught.
 
Then, almost out of nowhere, Shannon receives a text message to meet someone who promises to help. He shows up for the mysterious appointment, and is quickly whisked away to undergo a series of operations to change his face and other physical characteristics. He is also given a new name and background, and deposited in a new city where there is ample opportunity to find work. Shannon never learns who is behind all this, but sets out to begin his new life as Henry Conor.
 
The city where Shannon, now Connor, is relocated was recently devastated by a massive flood, destroying many homes and buildings. At night, the streets are overrun by looters and ruthless, violent gang-bangers. Because of the extensive flood damage, Shannon easily finds steady work with a construction crew, and even a part-time job on weekends repairing a wooden sculpture owned by a local resident. Before long, he finds himself falling in love with the man's daughter.
There are other, more sinister forces at work in the city as well. A corrupt police lieutenant, in the pocket of the charismatic but equally crooked mayor, tracks down Shannon and almost has him killed. From there, Shannon slowly learns the real reason behind his transformation, and who the real Identity Man is.
For all its familiar plot elements, THE IDENTITY MAN is often a disorienting reading experience. Klavan occasionally and briefly interjects himself into the narration. Even odder is the fact that the city where Shannon is relocated, and then hunted down, is never named throughout the entire novel. We might assume its New Orleans, slowly lifting itself from the devastation of Hurricane Katrina, but there are insufficient details to this conclusion. It's almost as though the author were relating the entire story as an allegory.
 
But the most notable element of THE IDENTITY MAN — and the way it lifts itself above the familiarity of its plot — is the relentless intensity of its prose. Klavan gets underneath the skin of each of the main characters and lays bear the greed, ambition, regret, hatred and self-loathing that motivate their lives. None are spared from this severe, angry, and at times politically-tinged exposure — not even Shannon himself, who comes closest to a "good guy" as the novel allows. Ironically, this same angry intensity is what keeps us involved, even when we feel certain how the plot will proceed and eventually resolve.
 
Not many authors can pull this off. But Klavan does. So even if you feel you've read every altered-identity story even written, make room for Klavan's take on the theme. —Alan Cranis