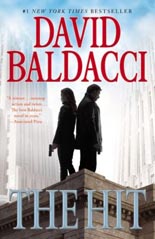 Prolific thriller author David Baldacci first introduced Will Robie, a highly skilled U.S. government assassin, in last year's THE INNOCENT. Now Robie returns in THE HIT, a work that displays all of the author's strengths and weaknesses.
 
Shock waves reverberate throughout the Washington, D.C., intelligence community when a government agent is found murdered. What's even more shocking is that the killer seems to be Jessica Reel, one of the best and most lethal of America's government assassins.
To get to the bottom of the murder, the CIA calls in Robie, the only assassin who is Reel's equal. Reel has obviously been turned, and Robie's mission is to bring her in, dead or alive.
 
No sooner does Robie begin his investigation when more killings occur — all linked to Reel. Having trained together and once known each other, Robie wonders what might have caused Reel to become a traitor. As he digs deeper, he discovers the truth behind her actions and finds his own loyalties called into question.
 
The story gets off to a strong start, with an opening chapter that ends with a twist that literarily sneaks up on you. Baldacci utilizes a straight-ahead yet cooly detached prose tone that works well for the surprise in store.
 
Sadly, however, Baldacci reaches his stylistic peak with this opening and maintains the exact same plateau throughout the rest of the novel. So while there is plenty of action throughout the story — all of it painstakingly detailed — the consistently detached tone makes it seem a bit dull and distant. It doesn't help that the author also ends almost every chapter with a cliffhanger sentence.
 
His characters fare little better. To his credit, Baldacci ties to flesh out the narrative with some peeks inside some of the player's thoughts. But he rarely gets beyond their most immediate feelings or concerns. Oddly, Reel is the only character with anything close to an appreciable background. A bit more of this kind of depth on Robie, the novel's protagonist, would have helped.
Then there is the relationship between Robie and a teenaged girl who played a much larger role in THE INNOCENT. Baldacci can't quite paraphrase the essence of that previous encounter, so we never really understand why the young girl is such a potential liability for Robie.
 
Where Baldacci really shines — along with his detailed action sequences — is in plot development. Seemingly disparate pieces of information eventually come together to reveal a clandestine threat that is both relevant and alarmingly credible. So much so that we can almost forgive the deficiencies in Baldacci's characters — almost.
 
THE HIT, like much of his previous titles, is for readers looking to get lost in a fast-moving, plot-driven story with only a smattering of emotional complications or distracting character depth. There are plenty of such readers, which is why almost everything Baldacci puts his name on ends up on the best-seller lists.
 
Those hoping to understand more of what motivates characters to undertake such dangerous action need look elsewhere. —Alan Cranis