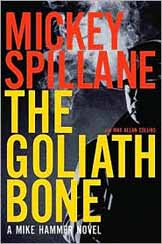 If THE GOLIATH BONE proves to be the final outing for Mike Hammer (at least chronologically), then at least the iconic private investigator goes out with the proverbial bang. This one — the 14th for Hammer — finds Mickey Spillane's hero still hard-boiled, even if his body's going a little soft. He's thinking about retirement, has an AARP membership, no longer smokes and is about to head to Vegas to finally marry Velda, his longtime "secretary."
"Mike, you're not the randy young PI you used to be," Velda tells him, to which he answers, "No. I'm the randy old PI of today." Their plans change, naturally, when he witnesses a college-aged couple unknowingly being pursued by a hooded figure who follows them into the subway. Hammer goes to check it out and finds the kids running back up the stairwell, with their predator now brandishing a gun. Hammer shoots the piece out of the guy's hand, and the sucker trips and falls down the stairs to his death.
Homicide determines the dead man's a suspected terrorist, and Hammer quickly figures out what a man like that would want from clean-cut kids like these: their bone. Matthew Hurley and Jenna Sheffield are grad students at NYU, and stepsiblings who accompanied their professor parents on a research trip to Israel. While there, Matthew and Jenna — secret lovers, Hammer determines — unearthed a bone in the Valley of Elah that they believed to belong to the behemoth biblical figure Goliath, as in "David and."
There's no way to prove it 100 percent, of course, but the Israelites would love to have the relic as confirmation of their beliefs. But the militant Muslims would love to have it, too, if only to destroy it out of spite. They're willing to kill for it, as Hammer witnessed in the hunting of Matthew and Jenna, so he takes them under his wing while he investigates and tries to figure a way out of this mess.
The idea of a post-9/11 Hammer fighting terrorists is, to be sure, an unusual one — far removed from his usual milieu. But really, it's just a framework that lets Hammer still be Hammer. After all, who else would slur to a dying opponent of another heritage, "I'm going to make sure they bury you with a pork chop tied around your damn neck."
Any doubts that time have mellowed Hammer should be dispelled by the time someone requests he kill someone out of revenge, and "make it awful." Hammer replies, "Count on it." And then there's the choice bit where he describes one of the terrorists plummeting to his death, falling "with a cry that might have been 'Alllahhh!' or maybe it was just a terrified scream."
Yes, kids, this is your grandfather's Mike Hammer! Luckily, he knows no generation gap, even if he acknowledges his trademark fedora is out-of-date. Spillane still makes some concessions to yesteryear, mostly in his dialogue, such as someone who refuses to talk being dubbed "clamsville."
It's leisurely, yet exciting, and engrossing enough that you'll want to finish it in a day. For me, the only drawback was that the big reveal wasn't one at all, having guessed it long before. No worries, because I still enjoyed seeing the deliverance of the comeuppance, courtesy of the mighty Hammer.
Spillane died before he could finish BONE, so those duties fell to his good friend Max Allan Collins. Spillane's influence on Collins is no secret, and the pupil has learned well, because I can't tell where one's contribution ends and the other's begins — it's smooth sailing throughout. Well, not for Hammer, of course, but for you. —Rod Lott

"She was wearing a T-shirt and no bra and bikini bottoms. At her age, her boobs should have been to her knees, and the last thing she should have able to get away with was a bikini bottom. But her breasts were full and firm, the tips poking at the cotton fabric like the eraser ends of pencils."
OTHER BOOKGASM REVIEWS OF MICKEY SPILLANE:
• BLACK ALLEY by Mickey Spillane
• DEAD STREET by Mickey Spillane
• THE DELTA FACTOR by Mickey Spillane
• THE KILLING MAN by Mickey Spillane
• THE LAST COP OUT by Mickey Spillane
• THE LONG WAIT by Mickey Spillane
• THE TOUGH GUYS by Mickey Spillane
OTHER BOOKGASM REVIEWS OF MAX ALLAN COLLINS:
• BLACK HATS by Patrick Culhane
• DEADLY BELOVED by Max Allan Collins
• DICK TRACY by Max Allan Collins
• THE FIRST QUARRY by Max Allan Collins
• A KILLING IN COMICS by Max Allan Collins
• THE LAST QUARRY by Max Allan Collins
• MY LOLITA COMPLEX AND OTHER TALES OF SEX AND VIOLENCE by Max Allan Collins and Matthew V. Clemens
• QUARRY'S LIST by Max Allan Collins
• RED SKY IN MORNING by Patrick Culhane
• ROAD TO PARADISE by Max Allan Collins
• TOUGH TENDER by Max Allan Collins
• THE WAR OF THE WORLDS MURDER by Max Allan Collins