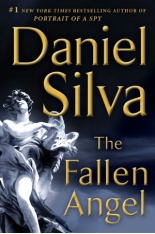 Retirement can be challenging, especially after a long and distinguished career, but it shouldn't necessarily be impossible. That, however, proves to be the case for Gabriel Allon in Daniel Silva's latest novel, THE FALLEN ANGEL, the 12th title in the author's series featuring this troubled but extraordinarily skilled and resourceful secret agent.
After barely surviving his last operation, Gabriel Allon resigns from Israeli Intelligence and takes refuge with his beautiful young wife at the Vatican, of all places. There, he resumes his previous career — and frequent cover identity — as a celebrated art restorer, repairing one of the great masterpieces by Caravaggio. Early one morning, Allon's work is interrupted when he is summoned by Monsignor Luigi Donati, the private secretary to the Pope. Donati brings Allon to St. Peter's Basilica, where the body of a dead woman has been found under the dome.
A quick examination reveals the identity of the dead woman as a curator for the Vatican Museum. The Vatican police suspect suicide, but Allon believes she was murdered. Hoping to avoid a church scandal, Donati enlists Allon to find the truth.
 
Eventually, Allon discovers links to the curator's death and a criminal network that seals priceless antiques and other works of art and sells them to the highest bidder. What's even more disturbing is the revelation that one such source is supplying huge sums of money to the Islamic terrorist group, Hezbollah.
Allon re-enlists into Israeli Intelligence when he discovers a terrorist plot set to unfold in a matter of days. In addition, another terrorist plot, connected with the Pope's visit to Jerusalem during the Holy Week of Easter, could result in a massive Middle Eastern war and the destruction of Israel.
 
The majority of Silva's novel follows Allon as he pieces together the various clues and connections. Along the way, Allon reassembles the team of field agents and intelligence researchers he has relied upon in several previous operations. While all of this is familiar to longtime readers, the author includes just enough backstory to bring newcomers up to speed while spicing the narrative with observations on the length the Vatican will go to avoid scandal, how the world and international media has underestimated the power of Hezbollah, and the latest topic of denial for those who insist the Holocaust never happened.
 
But Silva falters slightly when he switches to the second story involving the Pope's visit to the Holy Land in the last quarter of the novel. Other than the link to the Vatican and ongoing terrorist activities, there is no strong connection between this and the preceding story that takes up the majority of the book.
 
It takes no small amount of effort to catch your breath after one series of suspenseful events, only to be thrust immediately into another. Fortunately, Silva's conversational yet confident prose style eases the transition and makes the effort well worthwhile.
 
Those new to the series might want to first read THE MESSENGER, an earlier book involving Allon and the Vatican, whose events are referred to often throughout this latest entry.
 
In spite of its slightly lopsided structure, THE FALLEN ANGEL is another worthy addition to the continuing story of Gabriel Allon and his seemingly endless struggle to find peace in his life and in the violent world around him. —Alan Cranis