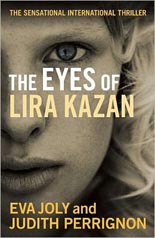 I was really pleasantly surprised by Eva Joly and Judith Perrignon's THE EYES OF LIRA KAZAN, a ripping good thriller that winds its way from the brutal soil of Nigeria to the financial capital world of London through the sunny skies of the Faroe Islands.
Joly was an anti-corruption prosecuting judge in France and ran as the Green Party candidate in the 2012 French presidential election, while Perrignon is a former journalist and well-respected author. Her skills coupled with Joly's personal experience and background make for an exciting, fast-paced tale of large-scale financial fraud and the brave but beleaguered souls who attempt to expose the crimes.
Sunleif Stephensen is the president of Grind Bank, a Faroe Island institution that carries much of the islanders' debt and investments. Unfortunately, it also carries a whole lot of fraud on its books, illegally laundering money for Russian mobster and business entrepreneur Sergei Louchsky. The first hint that Stephensen may have made the wrong friends is when his wife is found dead. That may be the least of his problems, as the bank has to declare bankruptcy, sending shock waves around the world. And pissing off Louchsky in a big way.
Louchsky — and Stephensen before his fall — had important political and economic contacts in high places, and this makes it very dangerous for those who are attempting to root out the corruption of these men. One of the French prosecuting judges is threatened then quickly removed to juvenile court when he pushes too hard. That judge's clerk, Félix, takes it upon himself to continue the case.
Also on the side of the good is Nwankwo Ganbo, a Nigerian in exile who is trying to bring down one of that country's corrupt governors, and our title character, Lira Kazan, a Russian journalist who steps too hard on Louchsky's toes and pays a terrible price.
The short, explosive chapters — often cleverly interleaved with a page of official bureaucratic documentation relating to the events — provide a great pace and structure for the reader. Brief bursts of thoughtful description dripping in details match powerful outbursts of dialogue or brutal and swift action. While the characters are not necessarily fully developed, this is, after all, a thriller, and Joly and Perrignon do the job of making you care just enough about the right people and to be angry at the bad ones. All of this is wrapped up in a suitably modern and elegant way that leaves one quite satisfied.
There is no room with these characters to grow in a series, but if THE EYES OF LIRA KAZAN is destined to be a one-off, I certainly hope it won't be the last collaboration between the authors. This is a strong and thoroughly enjoyable book that I can recommend without hesitation. —Mark Rose