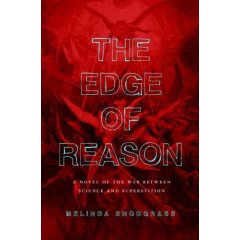 Sure to push a few buttons is THE EDGE OF REASON, the newest novel from Melinda Snodgrass. We're talking some major religious buttons throughout, mining some of the same material that Philip Pullman's HIS DARK MATERIALS trilogy covered, but with a much more adult bent — in other words, no talking animals or bizarre flying ships in this one.
Snodgrass plants this story firmly in reality, but with the addition of magic and monsters. Now that's where the novel will probably lose a few people, since it seems when any character comes into contact with the truly surreal, it never fazes them, as if coming across two golem-like figures while a girl is hurling pennies peppered with magic is common-day.
Richard Oort is a police officer in New Mexico who stumbles into a long-running secret war, with both sides very eager to recruit him, using any means necessary. On one side of the battle are the Old Ones, who might sound like some kind of Lovecraftian creatures, but we're never given a clear idea of what they really are — only that human suffering drives them. On the other side — where Richard ends up — is the Lumina, a group based in science and reason, whose members believe that religion is a huge downfall that just feeds into the Old Ones, making them stronger.
There lies the crux of the book: the battle between these two groups and how Richard — portrayed as a deeply religious man — comes to terms with his calling to fight for the Lumina. Richard is chosen to be their new paladin and is given a magical sword that has been handed down from various great historical figures — and also a few schmoes, as he is also told.
REASON is sure to piss off a few people, with one of Richard's allies being a homeless man who also happens to be a god, and also Richard's deep secret that he tries to hide, only to be exposed by the Old Ones. Snodgrass pulls no punches with this one. It's certain to ruffle some feathers, but readers who like a challenge will rejoice. It's filled with some deep ideas that will spark discussion. —Bruce Grossman