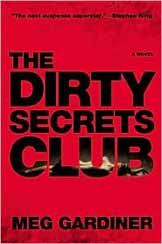 If you didn't know that Meg Gardiner is the author of currently six crime/thriller novels, you're not alone. This Oklahoma-born, former Californian has published exclusively in her adopted home of Great Britain for the past several years.
But thanks largely to a recent ENTERTAINMENT WEEKLY column by Stephen King where he declared her "as good as Michael Connelly and better than Janet Evanovich," we can now read Gardiner on this side of the pond. THE DIRTY SECRETS CLUB and CHINA LAKE allow us to be in at the start of a new series, and catch up with a continuing series right from the beginning, respectively.
Rather than take part in a potentially endless (and volatile) argument about "as good as" or "better than," we can cut to the bottom line: Is Meg Gardiner worth the investment of your reading time?
Yes. Yes she is. As these two works aptly demonstrate, she is a confident, creative and entertaining storyteller with a skillful sense of pacing, a sure hand with characterization and an evocative sense of her northern California settings.
And, as if all of this weren't enough, Gardiner adds to the appeal of her protagonists by giving them a slight tweak to their near done-to-death investigative professions. Jo Beckett, the newer star of THE DIRTY SECRETS CLUB, is not another forensic investigator. Rather, she is a forensic psychiatrist who digs into why a victim died, instead of how they died. And Evan Delaney, first introduced in CHINA LAKE, is a former lawyer, currently working as a freelance legal researcher, with a side career as a science-fiction author.
In DIRTY SECRETS, Beckett is hired by the San Francisco Police Department to investigate the apparent suicide of a rising-star district attorney who drove her car off a highway overpass. Beckett soon notices that it is the latest in a series of rather public suicides by wealthy, successful individuals who appear to have everything to live for.
Digging deeper into their personal lives, she discovers that all of them were members of a clandestine Dirty Secrets Club. She suspects someone is threatening to expose the club member's secrets and thus pushing them to kill themselves. But before she can figure out the motive behind this action, she herself receives an anonymous card welcoming her into the club.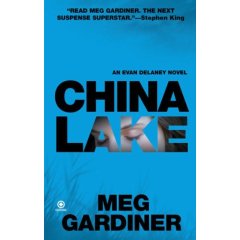 In CHINA LAKE, Delaney is leaving a funeral for a friend who died from AIDS complications in her Santa Barbara home, when she and the family of the deceased are confronted by noisy group of demonstrators who are members of The Remnant, an evangelical, end-time sect that spews bigotry and intolerance amidst their quotes from Revelations.
At the end of a heated exchange, Delaney finds that her former sister-in-law, Tabitha, has joined the sect. Delaney fears that Tabitha's presence in town means she's after Luke, her 6-year-old-son, currently in Delaney's care while the boy's father and Delaney's brother, Brian, is serving in the Air Force.
Delaney rushes the boy to Brian's base in the high desert town of China Lake, but The Remnant congregants are right behind her. And following an attempted kidnaping, a prominent Remnant member is found murdered. Brian, not surprisingly, is the main suspect. Then things get really dicey when Delaney discovers that The Remnant mean to initiate Armageddon by their own destructive actions, rather than let Biblical prophecy run its own course.
If there is one little snit here, it is Gardiner's fondness for the "conspiracy-behind-the-conspiracy" tactic she utilizes in both books to further enhance the plot. It adds a bit more weight than needed, especially in the last third of CHINA LAKE. But her other skills keep the suspense ramped up and the pages turning.
While promotion for DIRTY SECRETS is underway, Obsidian plans to release the remaining four Delaney titles during the summer and into early fall. Let's make room for her and welcome her home. —Alan Cranis