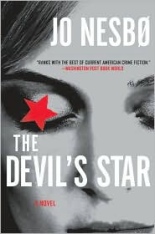 THE DEVIL'S STAR by Jo Nesbø is the fifth in his series of novels featuring Inspector Harry Hole. Ably translated from the Norwegian by Don Bartlett, this book, first published in English in 2004 and now made available in America for the first time, is just one of eight in the series, all of which should develop a big following here in the States.
From the opening seven-page scene describing a drop of liquid's path from one room to the next, to the climactic and deadly final confrontation, everything is so well-presented, so gritty and intense, that you fly through the 450+ pages imagining every vignette in your mind as to how it would play out in a movie theater. It's exciting, cinematic, visceral.
Inspector Harry Hole is an obsessive alcoholic who is one of the best detectives in Oslo, Norway, when he's sober. (I'm casting Al Pacino in the role, although Humphrey Bogart would have been good, too.) His big rival in the force is Inspector Tom Waaler, an excellent detective, but who seems to be a little skeezy on the side. (I'm going with Alan Rickman.)
Hole is convinced that Waaler was involved with the death of Hole's partner, but he has no real proof. They are forced by circumstances to work together on what promises to be one of Oslo's biggest cases.
A young and beautiful woman is found dead and naked, but not sexually assaulted, with the index finger of her left hand cut off. Then another woman goes missing. Then, a third woman is found dead in the ladies' room at a lawyers' office with her ring finger cut off. Things aren't looking good for the missing woman at this point.
Nesbø takes us through the investigation step by step, and we slowly begin to see what is at the heart of Hole, a need for love that seems like it cannot be assuaged. We see why he torments himself, why his actions are self-destructive, and even why he has so little faith in Waaler. His character is the best thing about THE DEVIL'S STAR, drawn with all his faults intact, and yet, we are still instinctively drawn to him.
It's a thrilling police procedural with enough twists to please even the more jaded among us. Once again, this shows why we need more works translated into English, as there are some really excellent mystery writers plying their trade in the Scandinavian countries. More, please. —Mark Rose