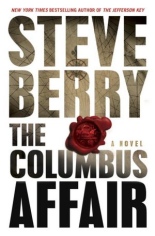 Writers who are super-popular and rack up No. 1 best-sellers often have a bevy of jealous detractors, and Steve Berry is no different. It's impossible not to see any of his 11 novels prominently displayed at every airport bookstore or supermarket checkout line, right next to the Danielle Steeles and the Clive Cusslers. But Berry is good. Really good.
He manages to take that entire archaeologico-historico-religioso thriller genre that so many people try at and fail, to produce an exciting storyline with plausible elements that respects, instead of ravages, its background history. For those who are intrigued by the various storylines, Berry offers endnotes that will help pave the way for further research, and this is welcome indeed.
In THE COLUMBUS AFFAIR, a standalone work that does not feature his series character of Cotton Malone, we encounter the possibility that Christopher Columbus was a falsely converted Jew, and that he came to possess great treasures of the Jewish religion. These treasures, once restored to their proper place, would help the Jewish people regain their land, build the final temple, and bring peace to Earth. Yeah, yeah, you've heard it all before, and usually it concerns the Ark of the Covenant.
What it doesn't usually concern is a man who on the very verge of killing himself finds out that his daughter has been abducted. One Zachariah Simon shows up in disgraced journalist Tom Sagan's house, showing him a live video of Sagan's daughter being groped by Simon's confederates.
Sagan is the only man who can sign over rights to have his father's coffin exhumed, and there is something in the coffin that Simon desperately wants. It is only later that Sagan finds out his own daughter was complicit in the abduction, for she, too, wants to get her hands on what is buried with her grandfather. This opening gambit leads us on a wild goose chase through Vienna, Prague and eventually to Jamaica.
Berry revels in historical detail, providing diary excerpts, images, and, of course, the requisite puzzles and codes to immerse the reader into the history of Columbus and the persecution of Jews. The contemporary stories that revolve around these historical discoveries, the saga of Sagan and his daughter, the evil machinations of Simon, and the presence in Jamaica of the powerful Béne Rowe, add to the mosaic, providing all the necessary modern intrigue and action scenes.
If you have a love for history, and any aspect of Columbus or Jamaica, you're sure to enjoy THE COLUMBUS AFFAIR, another excellent entry in Berry's oeuvre. —Mark Rose