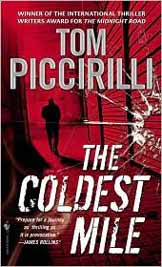 With the passing of Donald E. Westlake, crime fans understand we'll never see another in his Parker series. But Tom Piccirilli's current series stars what could best be described as an alternate version of that character, but still is cold-blooded and ruthless.
For those who have read the first book, Piccirilli does not skip a beat in THE COLDEST MILE. Picking up probably weeks after the events of its predecessor, we find Chase looking for a quick score to track down his grandfather, Jonah — Piccirilli's Parker archetype — who casts a very large shadow over Chase throughout the novel. He realizes Jonah's ways not only have validity, but if he stuck to them, he would not get into the messes that come his way.
Chase finds work as a driver for a crime family that has seen its better days. He goes in expecting to be a driver, but ends up as a chauffeur, much to his dismay. But this is also not a family that he can easily quit, since the book opens with the clan taking care of the last chauffeur who crossed them. It becomes quite apparent to Chase that taking the job was a mistake, and looks for a way out. When the time comes, he burns every bridge along the way, with the idea repercussions will come his way. But as of now, he is more focused on dealing with the demon that is his grandfather.
The story moves into Florida, where Jonah is working, with no great success. Chase, having no ties to the area, tries to find a string to get involved with that will lead to his grandfather. The main reason for his search is to take Jonah's infant child away so she won't know the life Chase was forced into.
Piccirilli has gotten the style down to the wire with the exploits in this crime world. Not only does it feel as though at any moment that the real Parker will turn up, but maybe Dortmunder, too, with some of the crews Chase deals with. The book fires on all cylinders, like a souped-up GTO on straightaway. As much as Chase wants to distance himself from this life, he knows it's the only way to survive until everything is accomplished.
THE COLDEST MILE is all about the buildup, since Jonah makes an appearance much later in the story, unlike the previous book, but what an entrance. It leads into the bloody climax that will leave readers wanting more, since Piccirlli does a fantastic job of setting up what will probably the final book in the series. It's not just that the author has created a character dealing with such a delicate balance in his mind, but that it seems to have been written as though the words just flowed out of him like it was second nature. But he plots the book like it's unfolding as he writes down the action, as if Chase were right there, relating the story. —Bruce Grossman
OTHER BOOKGASM REVIEWS OF THIS AUTHOR:
• ALL YOU DESPISE by Tom Piccirilli
• THE COLD SPOT by Tom Piccirilli
• THE FEVER KILL by Tom Piccirilli
• FIVE STROKES TO MIDNIGHT by Tom Piccirilli, Gary A. Braunbeck, Deborah LeBlanc, Hank Schwaeble and Christopher Golden
• FOUR DARK NIGHTS by Bentley Little, Douglas Clegg, Christopher Golden and Tom Piccirilli
• HELLBOY: EMERALD HELL by Tom Piccirilli
• THE MIDNIGHT ROAD by Tom Piccirilli