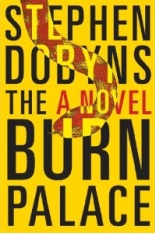 Stephen Dobyns has an impressive back catalog of well-regarded poetry collections, a long-running detective series set in Saratoga Springs, and a handful of genre-jumping novels that invariably draw rounds of applause from jaded reviewers and mash notes from Stephen King.
So when the buzz escalates into a roar upon this novel's publication — and it should — you may, like me, wonder how the hell you've failed to read a writer so richly, weirdly compelling. THE BURN PALACE is a fat blast, a sly, character-driven exploration of a town unraveling over the course of a few fall weeks, wracked by an escalating series of strange and often horrifying events.
The cold open follows Alice Alessio (known with a leer as "Nurse Spandex"), fresh from a(nother) naughty dalliance with a(nother) doctor, returning to the infant ward to find one child gone, replaced under the blankets by a snake. The plot — kicked into gear by a confused, terrified scream — has its own promiscuous fun with an array of horror conventions: rumors about devil worshippers, vampires, shape-shifters; a scalping; an increasingly-unhinged stepfather; a sidebar on wormholes; shady goings-on at a new age health club and an old folks' home; Halloween. 
 
But even the loopiest of these Strange Happenings is grounded by Dobyns' meticulous attention to building and populating this small world. Every character in Brewster, R.I., has her own complex backstory. For instance, in quick, rich sketches, we learn quite a bit about Nurse Spandex as she shifts her knickers on the way toward the serpent, and the novel delights in taking us behind every door in town.
Every now and again, the narrative zooms up for a bird's-eye view, talking us 'round the specific goings-on as residents end their day, or slipping back through time to tell us about founder Wrestling Brewster (and his own untimely demise). The weird events plaguing the town achieve more weight — can seem as tantalizingly plausible to us as to the frightened folks in Brewster — because of this thick description.
 
That realism is further enhanced, and the suspense ratcheted up more effectively, because each revelation is doled out in the steady tick-tock timetable of a procedural. Dobyns' omniscient narrative jumps around town to show us the collision of the day-to-day and the uncanny. But explanations are scarce, and we track with the overtaxed police force and, in particular, no-nonsense mensch Officer Woody Potter, trying to make sense of what seem like pieces from a whole lot of puzzles.
 
It is a sign of Dobyns' expertise that the book does lead to a very satisfying resolution, without sacrificing the equivalent but usually oppositional pleasures of the messy digression or the unresolved mystery. The novel wanders, but always with a clear sense of direction; similarly, it doesn't rush along in ceaseless action, yet a few set pieces had me white-knuckled in worry.
THE BURN PALACE is one of those great, big, old-fashioned door-stoppers — as full of life as it is pocked by many strange deaths, polyamorous in its love of various genre conventions, but true to its own idiosyncratic sensibility. It is highly recommended. —Mike Reynolds