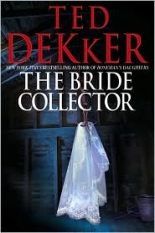 THE BRIDE COLLECTOR is the kind of thriller that accomplishes everything it sets out to do: Ted Dekker offers readers a gripping, fast-paced account of a deranged serial killer in action, and a blow-by-blow account of the FBI's attempts to stop him. Drawing on the aid of patients at the Center for Wellness and Intelligence — which, as the director points out, is not a "mental institution," but rather a center for challenged but highly intelligent people — hunk FBI agent Brad Raines tracks the mind and psychology of a serial killer who believes he is on a mission from God.
Thankfully, Dekker avoids the psychiatry trap that seems to flummox so many psycho-thriller authors, and does not go too far into detail on the variations between forms of psychoses, instead offering just a proper amount of information on the thought processes of both the killer and the savant patients tracking him.
Readers should not be turned off by the opening chapters, which feel forced and a bit obvious. After a bit of rough ground introducing the characters and premise, the author falls into a more comfortable writing style. Although this makes it feel a bit as though he started out with a good premise without being quite sure how to come at it, the final product is worth it.
A balanced serial-killer thriller, with only a smattering of unbelievable love story and few coincidental circumstances, THE BRIDE COLLECTOR is a solid pick as a thriller read for any weekend away this summer. —Kerry Serini
OTHER BOOKGASM REVIEWS OF THIS AUTHOR:
• BONEMAN'S DAUGHTERS by Ted Dekker
• HOUSE by Frank Peretti and Ted Dekker
• SAINT by Ted Dekker
• SKIN by Ted Dekker