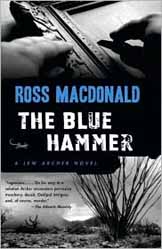 THE BLUE HAMMER was the last Lew Archer novel written by Ross Macdonald before Alzheimer's had taken over, and holds all the earmarks of prime Archer material. Deep family secrets aplenty pepper this book, which are all tied to a stolen piece of artwork. For Archer, what seems like a very easy case gets a lot deeper than anyone would have guessed.
Archer is called to the residence of a wealthy couple named Biemeyer. Someone has absconded with a nude portrait by renowned artist Richard Chantry — well, they were never certain whether it was a true Chantry or a fake, but they want Archer to find it no matter what, and with as little noise as possible. It doen't take long at all for him to poke at that bee's nest of secrets.
As soon as he tries to do his job, Archer is thrown roadblocks by an art dealer and a wannabe art expert in the form of the Biemeyer's daughter's boyfriend Fred. It's revealed that the subject of the painting was at one point the mistress of a few people involved in the case. Archer makes it a point to find out where she is now and if she could shed any light onto the matter.
This leads Archer to Arizona, where he makes a discovery which just adds to the mystery: a 34-year-old murder case of Chantry's half-brother William Mead. Then there is Chantry's disappearance 25 years ago: Was he killed or just ran off? All this adds to the greater scope of this fitting final Archer case. If those were the only problems Archer had to deal with, the case might have gotten solved earlier, but Macdonald throws a few monkey wrenches at Archer when two people he needs to talk to turn up dead, both of whom have ties to the missing painting.
Longtime readers might have the same problem I did: figuring out one of the bigger reveals, with still plenty of story left. But even so, Macdonald still does a great job of not letting it all out in plain sight, but having enough information for observant fans to figure it out for themselves. This book makes a fine companion piece with the other current Macdonald reissue, THE INSTANT ENEMY, since both come down to secrets and the families who try hard to keep them that way. —Bruce Grossman
OTHER BOOKGASM REVIEWS OF THIS AUTHOR:
• THE ARCHER FILES by Ross Macdonald
• BLACK MONEY by Ross Macdonald
• BLUE CITY by Ross Macdonald
• THE INSTANT ENEMY by Ross Macdonald
• THE WAY SOME PEOPLE DIE by Ross Macdonald