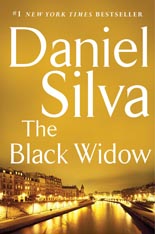 Daniel Silva's latest, his 16th novel featuring Israeli spymaster Gabriel Allon, makes for difficult reading. Not because of any imperfections in the style or plot; but rather because the terrorism depicted in the novel is so uncomfortably close to current events happening throughout the world.
Silva confesses, in his brief Forward, that he was tempted to put the manuscript aside when he saw how it resembled recent acts of violence committed by ISIS. "I take no pride in my prescience," he says. "I only wish that the murderous, millenarian terrorism of the Islamic State lived solely on the pages of this story." Fortunately he completed the novel, and THE BLACK WIDOW stands as perhaps the most relevant and unsettling title of the entire series.
Gabriel Allon, who recently became the father of twins, is about to assume his new position as head of Israeli Intelligence when events in another country delay his transition. A bomb destroys the Weinberg Center for Anti-Semitism Studies in Paris, killing several people including its founder and Allon's ally, Hannah Weinberg. Not long after the explosion ISIS, the Islamic State terrorist organization claims responsibility for the killings. Its leader, who planned the Weinberg Center bombing, is known only by the name Saladin.
Allon knows that he must take immediate steps to stop Saladin and dismantle ISIS. To do so means planting a double agent in their midst.
Allon turns to Dr. Natalie Mizrahi, a highly skilled Israeli surgeon who is fluent in Arabic. Allon and his team eventually convince Natalie to accept the assignment and immediately train her while installing the details of her new identity.
Natalie is then recruited by ISIS and meets Saladin in a shockingly unexpected and ironic manner. Not long after that Natalie learns that Washington, DC, is Saladin's next target. She accompanies Saladin on his terrorist mission, under the watchful eye of Allon and the Intelligence Agencies of Britain and the USA.
Silva devotes most of the opening chapters to the events of the Weinberg Center bombing and its aftermath. It's not until a little more than 50 pages into the novel when Allon finally makes his appearance (performing an art restoration; his profession before becoming a spy and still his most frequent cover and greatest personal passion).
In these early chapters, and all that follow, Silva enlists the same dispassionate prose style that distinguishes the series. He veers back and forth from reporting events of the narrative in a journalistic manner (often looking back on certain events after they transpired) to taking us deep within the emotions and thoughts of his central characters. It's a perilous balancing act, but after 15 novels Silva manages it effortlessly.
Eventually, however, Silva alters the focus entirely on Natalie, her training and her initiation into ISIS. Allon and his British and American allies are relegated to the background and allowed little more than occasional comments as events unfold. This can't help but be disappointing to series devotees so used to Allon being directly involved in the action or directing it from a much closer vantage point.
Yet this disappointment is a delayed reaction, thanks to Silva sweeping us up into the horrific terrorist acts carried out by Saladin while striving to make readers understand the Islamic State's justification for taking so many innocent lives. Those who resort to fiction as an antidote to the anxieties of world events dominating the media will find little comfort here.
Still, THE BLACK WIDOW is an essential novel, not only as an involving addition to the Gabriel Allon cannon, but also for its penetration into the heart of its antagonists, who are often faceless entities as reported in the daily news.
And Silva latest novel not only reaffirms his status as one of the best spy novelists working today, but also establishes him as one of the most penetrating interpreters of the saddest and most threatening issue facing today's world. —Alan Cranis