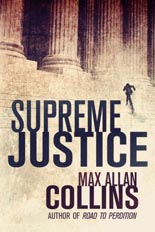 A political thriller from the vivid mind of Max Allan Collins, SUPREME JUSTICE is a nice welcome. Joseph Reeder a former Secret Service agent who took a bullet to protect the president. But would lose that position because of his criticism of that said President. Something no agent is supposed to do. But he just could not stand still as the President was packing the Supreme Court with an hard right type of judge. Reeder who is nicknamed Peep for his power of observations will be called upon to help out the current President on a task force.
The reason for the task force has to deal with what seems like a robbery gone horribly wrong. How wrong you might say. Well the robbery had a body count of one. That of a current Supreme Court Judge. What looks like just being in the wrong place at the wrong time looks vastly different to Reeder. That is what an elaborate set up assassination. But who and why is leaving everyone scratching their head.
But thats only the beginning. Since this starts off a rash of killings of other Supreme Court Judges. All of who were of the extreme right wing variety.
Reeder is an interesting character. A man who knows he is on the outside and really has no one to answer to. So the use of force will be the norm for his investigation. And one of those collapsable batons to great use. But Reeder has his soft spot but that is used to great effect in the story.
The story takes really throws the readers through a variety of ideas. With each killing being completely different from the previous ones. That there is no clear idea who is behind it or even if its just one person and not some fringe outfit. Who think they can change the political landscape. Collins seems to relish the idea of using the world of the secret service and political ideology as the basis for this latest thriller. Collins never tips his hand so to speak till the climax. When all is revealed as to the whose and whys. Readers no matter their political beliefs will all agree on one thing. That this latest from Collins shows he has never lost a step. —Bruce Grossman