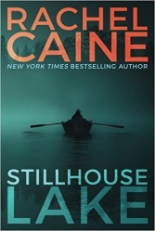 Rachel Caine's STILLHOUSE LAKE is a powerhouse of a book with a fairly unique concept. Our protagonist is the victim. She was the wife of a vicious serial killer, a man who tortured and killed young women in the garage of the house. All unbeknownst to her and the couple's two young children. The crimes only come to light when a drunk driver accidentally careens through their garage door revealing a corpse hung therein.
While at first, Gina Royal is thought to be a suspect, a helper in these grisly murders, it turns out that she really was that naïve, knew nothing, and so is eventually acquitted, given custody of her children, and sent back into the world.
But that alone is almost a sentence. While her ex-husband rots in jail, he still manages somehow to sneak out letters to Gina, letters that alternate between small talk and horrible descriptions of how he plans on mutilating and killing Gina.
And then there's the fanboys. People who side with the monster in jail and who want to torment Gina. There are victims' families, and oh-so-upright citizens, who feel that Gina had to have known what was going on, and so they harass her, and stalk her, and send her horrible Photoshopped pictures of her and her kids being mutilated.
She has changed identities, locations, and names (she's now Gwen Proctor) five times until she ends up at rural Stillhouse Lake. Here she seems to find peace, until the mutilated and tortured body of a young girl floats to the surface of the lake, and the horror begins all over.
The author is adept at showing the terror Proctor feels, not just for herself, but for her kids. All through this terrifying ordeal, Proctor has reinvented herself, changing from the malleable and gullible perfect wife, into a strong and capable woman, someone who will fight back, fight to protect her children, fight to give them a better life. If she dies in the process, she accepts that, but she's going down swinging.
This is an emotionally tense book, and it can be overwhelming when it's page after page of Proctor's issues with trust and paranoia. Is the gun range teacher a friend, or an enemy? Can she tell the cop down the street what's been going on? But somehow, Rachel Caine makes it all thrilling. Her descriptions are clear and sharp, action scenes bustle along without extra verbiage, dialogue is natural, actions are believable. It all makes for a book you voraciously read, rooting for Gwen and her children to escape the monsters (both in jail and on the Internet) and to find peace at Stillhouse Lake.
They almost certainly won't, since this is the first book in a series. You may want to start reading it now. —Mark Rose