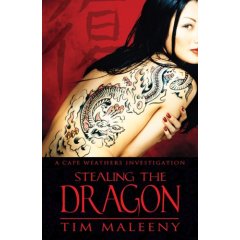 In STEALING THE DRAGON, first-time novelist Tim Maleeny gives us an exercise in pulp, noir and kung fu, all rolled into one: three great tastes that go great together.
In what promises to be the start of a continuing series, Maleeny introduces us to Cape Weathers, a private investigator based in San Francisco. STEALING THE DRAGON is balanced between two storylines, one of which has Cape digging up information about a ship that crashed on the rocks of Alcatraz – one which was holding Chinese refugees sneaking into the country as slave labor.
The other story concerns Cape's sometimes partner Sally, a lesbian Triad assassin, and delves deeply into how she became such a person, from when her parents were killed to the training and then initial missions. The two narratives converge later in the novel when Triad business becomes a focal point.
What's not to love? Just strap yourself in for a non-stop fun read with this one. If you're not frothing at the mouth already, you're reading the wrong books. Cape is your typical P.I. that has been covered before – nothing new, just more of a smart ass than others. Still, you feel for him as he investigates, cracking wise throughout the story.
Sally's storyline easily could have been a separate book. With the chapters alternating between the two, you'll never be bored. An obligatory shocker comes late in the game, and Maleeny – an excellent short-story writer – does not tip his hand at all with it, which is a nice change of pace for this mystery reader.
Look, no one is going to confuse this book with high art. STEALING THE DRAGON is a modern-day pulp that we so desperately crave here at BOOKGASM. I, for one, want more Cape adventures, and I want them now. –Bruce Grossman