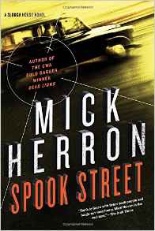 I had never come across Mick Herron's series of novels featuring Slough House special agents, but SPOOK STREET is the fourth book in the line (there's also a novella) and is so fun and entertaining, that I can strongly recommend not just this title, but I'd plan on picking up the other entries as well.
Slough House agents are referred to as "slow horses" by the rest of the British intelligence agencies. It's the place where disgraced or incompetent agents go to live out their careers in anonymity. As the author says, it's not really an arm of the intelligence services, and not really a finger because you could say you have a finger on the pulse of the problem, it's more like a fingernail of the intelligence services, a cutting that you discard.
These agents' idiosyncrasies are on full display throughout the book and while their "slow horse"-ness is apparent, some of the agents do manage to showcase the skills in which they were trained. When a suicide bomber blows a giant hole through a shopping mall and takes nearly forty people with him, Slough House is not the team the politicians call. But when one of the agents finds that his own grandfather, a former intelligence agent himself, was nearly murdered and that the grandfather was able to kill his attacker, then at least one member of Slough House is galvanized to surreptitiously track the attempted killer back to his origins in France.
Why would the dead man decide to murder an old man who is just beginning to suffer from Alzheimer's? Is there a connection to the mall bombing? Well, MI6 and James Bond certainly wouldn't expect the Slough House inmates to solve the crime, but they do, and in a most entertaining fashion. Although not without some serious costs.
Mick Herron has a delightfully brisk and witty style. Characters are well drawn, their quirks explained and exploited, dialogue is snappy and realistic, and the humor if not laugh out loud funny, certainly will make you chuckle at points.
I really enjoyed this book. Droll, fast-paced, and with a cast of crazy characters, you wouldn't want to work at Slough House but you certainly want to read about it. —Mark Rose