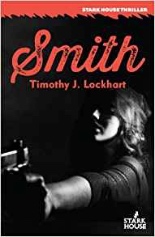 Lawyer and former U.S. Navy intelligence officer Timothy J. Lockhart's debut novel SMITH is the story of a skilled killer who becomes a professional assassin. It begins with the promise of a riveting thriller, but sadly loses most of its power through predictability and diminishing trust in its main protagonist.
We first meet Smith as she expertly kills three men with a long-range rifle for mysterious but apparently personal reasons. Not long after these killings, Smith – and yes, that's the only name she knows and answers to – is approached by a recruiting officer from a group known as The Enterprise. Smith quickly learns that The Enterprise is a clandestine, black ops organization called upon by the U.S. government to eliminate problematic individuals when all else fails. And the offer they make to Smith is literarily one she can't refuse.
Smith then enters a period of rigorous training, where she sharpens her shooting skills with various guns, learns hand-to-hand combat, and how to kill with other types of weapons. Along the way she meets the other newly recruited Enterprise members (all men) who train along side of her.
Then, shortly after a subdued graduation ceremony, Smith is dispatched on her first mission – to take out an unwanted Central American political figure. But before long Smith discovers that her real mission, in her first assignment and those that follow, is to simply stay alive.
The novel opens strong as Smith takes out the three unnamed men and then immediately covers her tracks. The pacing is curt and confident, and sets us up for a equally fast moving story of this shadowy and dangerous woman.
But then the brakes are applied as Smith meets the recruiting office from The Enterprise (and the fact that Lockhart chose a somewhat unimaginative name for his secret organization doesn't help). The exchange that brings Smith into the organization, and much of the training that follows, seems overly familiar to even the most casual thriller fan.
Smith's first mission is a disappointment. While in training Lockhart stresses how Smith's already attractive physique is made trimmer, stronger, and even more attractive. There's even special training in make-up and hair application. So obviously Smith will call upon her ability to seduce a male target. But the anticipation is removed when we quickly discover this as the intended method of her very first mission in Central America. The assassination is then carried out by-the-numbers, with the notable exception of a cleverly disguised murder weapon.
The missions that follow reconnect Smith with the other Enterprise members she trained with. Lockhart tries to convince us that these missions are complex enough to require a team effort, and valiantly portrays Smith's teammates as credible characters with their own unique skills. But there is the nagging feeling that Smith is no longer capable of carrying out these missions alone, and must rely upon her partners.
To his credit, however, Lockhart truly shines in the action sequences throughout the novel. Each carries just enough detail to maintain believability while always moving forward to the often-violent climax. There are also some surprising twists in the nature of the targets selected for the missions following the first in Central America. And, it must be stressed, the fact that Lockhart chose a women as his main characters demonstrates his willingness to move a bit outside of established thriller troupes.
First novels, while important, are often not the true presentation of a new author's skills. Lockhart definitely shows both talent and promise with SMITH – enough to recommend it to thriller fans with hope that Lockhart sharpens his focus and character development for his next novel. —Alan Cranis